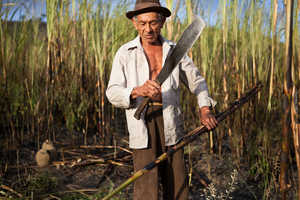 We're all being told not to put so much sugar into our bodies. Now we learn our addiction to the sweet stuff may be bad for the land and the people on it.
The global sugar trade is worth about $56.6 billion. The world produced 176 million tonnes of the stuff last year, with the food and drinks industry accounting for more than half of it.
Thirty one million hectares, an area the size of New Zealand, is being used to grow our sugar.
At least four million hectares have come into production since 2000, and production is predicted to increase by 25 per cent by 2020. That means more land, so where will it come from
According to a new report from international agency Oxfam, much of it comes from displacing communities in the developing world from their land without consent or compensation.
Sugar Rush, Land Rights and the Supply Chains of the Biggest Food and Beverage Companies highlights examples of land grabs and disputes linked to companies that supply sugar for Coca-Cola, PepsiCo, Associated British Foods and other major sugar users and producers.
Oxfam's "Behind the Brands" campaign is challenging the world's biggest food and ?drink companies to adopt policies that stop land grabs, not just for growing sugar but also palm oil and soybeans.
Oxfam New Zealand director Barry Coates says the model is the campaign against the use of child labour by cocoa growers, which has resulted in positive change within that industry.
With sugar, the source of the raw product may seem less transparent, but the major users have the ability to establish and implement a credible zero tolerance policy on land grabbing and include it in supplier codes of conduct.
Coca-Cola is the world's largest buyer of sugar and controls 25 per cent of the global soft drink market.
PepsiCo controls 18 per cent of the soft drink market.
Associated British Foods is included because it's also a producer of sugar - the world's second largest - as well as a major user in brands like Ovaltine, Tip Top Bakeries and Twinings.
The sugar rush, which gets an extra boost from the incentives to create biofuels, is encouraging ever more aggressive tactics from land-hungry agribusinesses, especially in countries where many rural people may not have formal title to the land they cultivate.
In Brazil, Usina Trapiche, which provides sugar to Coca-Cola and PepsiCo, waged a long campaign to take over 17 islands on the Sirinhaém estuary that had been home to 53 families since 1914. In 1998 a private militia associated with the company burned homes and farm buildings, and then used the courts and political influence to push the communities off their land.
Pollution from the sugar plantations means the waters around the islands can't be fished for up to six months of the year, taking away a remaining source of income for the people.
There have been similar conflicts reported in Zambia, in Mali and Malawi.
In the Sre Ambel district of Cambodia, two companies owned by Thai sugar giant Khon Kaen Sugar Co pushed 456 families off their land to make way for an 18,000 hectare sugar plantation. Some of the families had lived on the land since 1979, but as is common in Cambodia, the collapse of the land title system since the Khmer Rouge regime means they had nothing to prove ownership.
Oxfam says since 2000 there have been nearly 800 large-scale land deals by foreign investors recorded globally, covering 33 million hectares. The trend accelerated after the 2008 boom in food prices piqued investor interest in agriculture.
Oxfam says large-scale land acquisitions become land grabs when they do one or more of the following:
Violate human rights, particularly the equal rights of women;
Flout the principle of free, prior and informed consent, under which affected communities are informed about and are able to give or refuse consent to a project;
Take place without, or disregard, a thorough assessment of social, economic and environmental impacts, including the impact on women;
Avoid transparent contracts with clear and binding commitments on employment and benefit-sharing;
Eschew democratic planning, independent oversight, and meaningful participation.
Coates says: "it's important the companies know there are concerned citizens around the world, including in New Zealand, who are prepared to stand up and say 'we care enough about this issue that we take action to join a campaign'."
Val Hayes, the acting corporate affairs manager for Coca Cola Amatil NZ, says internationally The Coca-Cola Company has responded to Oxfam's campaign by reiterating its sustainable agriculture guiding principles. It is asking its suppliers to recognise and safeguard the rights of communities and traditional peoples to maintain access to land and natural resources. "We are working to promote respect for human and workplace rights by the farm and the employer of workers at the farm, whether or not the employer is the farm itself," it says.
PepsiCo also claims to be a good citizen and a good steward of the planet's resources. The most recent Global Reporting Initiative report on its website says it believes that "responsible and sustainable sourcing means looking beyond the traditional procurement aspects of cost, quality and consistent supply. We use our relationships within our global supply chains to ensure that those we work with operate ethically and responsibly, respect the environment, and continue to provide packaging, ingredient and agricultural innovation."
Like what you see? For weekly Element news sign up to our newsletter.
We're also on facebook and Twitter.