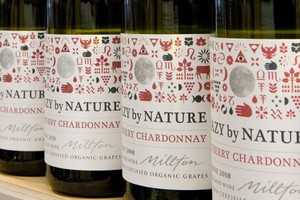 This year organic certifier BioGro celebrates its 30th anniversary. Its vision and philosophy have surely shaped the organic sector New Zealand knows today.
In 1983, registered charity BioGro set out with the primary objective to develop and maintain a credible and internationally respected organic standard and certification process - to safeguard the interests of producers and consumers. That single-minded objective and founding philosophy remain fundamental to its success today.
BioGro developed its own standards for New Zealand's unique conditions and diverse types of producers. As the organic sector has diversified, BioGro has developed new standards to meet the demand, most recently issuing organic standards for retailers and the makers of health and body care products - both firsts for New Zealand.
The international reputation BioGro gained in its early years still stands strong. It is now accredited by seven organisations around the world which allow its certified organic producers to export their products to markets which demand independent certification to internationally recognised organic standards.
This export market has continued to grow steadily even during the global financial crisis. Most recently (2012*) it was valued at between $215 and $225m - up 25 per cent from 2009.
30 years ago organics was a grassroots cottage industry in New Zealand. The total value of the organic sector in New Zealand is now estimated to be about $350m. This figure is based on the combined value of exports of certified organic products from New Zealand and the retail sales of certified organic products within New Zealand.
BioGro has become New Zealand's largest organic certifier with 650 certified producers and over 1000 certified operations around New Zealand and in the Pacific.
BioGro has seen strong growth among its certified producers committed to organic viticulture. By 2012 there were over 100 vineyards growing grapes organically, representing 7.6% of all grapevines. The growers' association, Organic Winegrowers New Zealand, has declared a goal of raising that figure to 20% by the year 2020. Organic grapes are the fastest growing sector of organic horticulture, which saw a total increase in land area (including grapes) of 37% between 2009 and 2012, to 11,188 ha.
In recent years, BioGro has also seen strong interest from, and growth in, the organic health and body care sector. More consumers are concerned about not only what they put in their bodies but also what they put on their bodies.
All Good Organics is a relative newcomer to BioGro's family having recently launched its range of Fairtrade organic drinks late last year. Co-founder Simon Coley says: "We've already had significant uptake on the drinks from cafes, restaurants and bars around the country and are even selling in Sydney, Australia and Macau where there is a strong demand for organic products. We've found that our clients really want to support an organic product."
They've noticed more and more people looking to make ethical purchasing decisions. "Having organic certification and a strong story of provenance and care for the environment behind our products and the ingredients in them, really resonates with our customers," he adds.
An increase in organic production and processing combined with consumer demand has resulted in growth for certified organic retailers too.
Marion Wood, co-owner of Wellington's certified organic stores Commonsense Organics says they continue to experience double-digit growth and as a result are opening their fifth retail store in Johnsonville.
One practice BioGro strongly opposes is genetic modification and genetically engineered organisms, which is expressly prohibited for the production of BioGro certified products. While GMOs are promoted with wide-reaching claims, a large and growing body of evidence shows that the claims are not true. Conventional plant breeding, in some cases helped by safe modern technologies like gene mapping and marker assisted selection, continues to outperform GM in producing high-yield, drought-tolerant, and pest and disease-resistant crops that can meet our present and future food needs.
There is no need to take risks with GM crops when effective, readily available, and sustainable solutions to the problems that GM technology is claimed to address already exist. Consumers don't want it and there is strong pressure from consumers for GE food to be labeled.
We are optimistic about the next 30 years. Our work has always been about supporting producers to operate organically and giving consumers the confidence that what they're buying truly is organic. May their good work continue. For more information about BioGro head to biogro.co.nz.
Like what you see? For weekly Element news sign up to our newsletter.
We're also on facebook and Twitter.