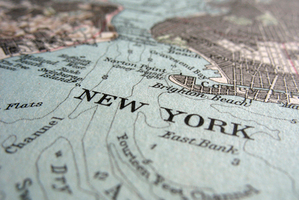 Cities:
Sydney
Australia's most populous city is getting serious about climate change. Recent research has shown that by 2050 global warming, combined with Sydney's urban 'heat island' effect where large buildings and pavements hold more heat than natural landscapes, could increase temperatures by up to 3.7°C. This has triggered concerns about heat-related health problems, as well as the energy and economic implications of increased use of air conditioning.In January Sydney experienced its hottest day on record, with temperatures reaching nearly 46C.
New South Wales' Department of Environment and Climate Change predicts rainfall increases across the region of between 20-50 per cent by 2050, as well as increased erosion and flooding in coastal areas caused by sea level rises and increased fire risks. Water authorities are also preparing for severe droughts.
A 2011 report by Australia's national science agency predicts a decline in southern and eastern Australia's water supply, failure of some urban drainage and sewerage systems, more blackouts, transport disruption, greater building damage, and an increase in heat-related deaths, infectious diseases and air pollution.
In response, Sydney has made a greenhouse gas emission reduction pledge that far exceeds anything we are seeing in New Zealand: a cut of 70 per cent by 2030 on 2006 levels.
The Council's own operations have been certified carbon neutral since 2008, it was the first Australian city to install energy-efficient LED street and park lights which use 35 per cent less energy to run, and has the largest building-mounted electricity-generating photovoltaic solar network in Australia. A AUS$6.9 million retrofit of 45 properties owned by the authority has achieved 20 per cent reduction in energy and water use, and saved $1 million on bills. It also leads a range of initiatives to support and promote sustainable building.
Next up there are plans to design a 'trigeneration' system using natural or waste gases from garbage, sewage plants, landfill sites, livestock, agriculture and forestry waste to produce low-carbon electricity, heating and air-conditioning. This will supply Sydney Town Hall, Town Hall House, the Queen Victoria Building and other nearby buildings. It is hoped that similar projects can be extended to other areas in the city.
The city's Renewable Energy Master Plan even goes so far as to suggest that all of the city's electricity, heating and cooling can come from renewable energy sources, such as solar, wind and energy from waste, by 2030.
Lord Mayor Clover Moore has said: "With temperature records here and around the world being broken ever more frequently, it is vital that we stop increasing the levels of carbon in the atmosphere that are causing climate change."
London
The UK Government's comprehensive climate change risk assessment for London does not make for happy reading. It predicts a barrage of flood damage and heat waves, as well as water shortages in which by the 2050s between 27 million and 59 million people in Britain will be living in areas where water demand outstrips supply.
A signifcant proportion of the city lies within the flood plain of the River Thames and its tributaries, meaning that a significant proportion of London's critical infrastructure is already at risk of flooding, with costs that could run into the billions. The Thames flood barrier across a 520-metre stretch of the river was closed four times in the 1980s, 35 times in the 1990s and more than 80 times since, according to the Environment Agency, demonstrating the growing risks.
The Greater London Authority (GLA) says that summers in the city are set to get hotter by an estimated 1.6°C in the 2020s and 2.7°C in the 2050s. They are also getting drier by an estimated seven per cent in the 2020s and 19 per cent in the 2050s, while the winters will get something like six per cent more rain in the 2020s and 14 per cent in the 2050s. Managing the effects of these weather extremes will be the UK capital's biggest climate change challenge.
The GLA has pledged to reduce London's CO2 emissions by 60 per cent of 1990 levels by 2025. The Authority plans to go about this by retrofitting London's homes and public sector buildings with energy efficiency measures, and aiming to supply a quarter of London's energy needs from secure, low carbon local sources such as solar, wind and waste gas by 2025.
The city appears to have done well in getting initial reductions underway: an independent report by London Southbank University showed that new developments in the city cut carbon emissions by 30 per cent more than required by the building regulations between 2006 and 2009. In recent years the UK's Environment Agency has also created a host of regional and local plans for actions to adapt to climate change impacts as they occur, mainly with regards to managing water supplies, flows and floods.
Boris Johnson, Mayor of London said: "London has an unrivalled opportunity to benefit from the shift to a low carbon economy. The time for trials and experiments is over. We are putting in place large scale programmes that can deliver significant CO2 reductions and billions of pounds of energy savings."
The urban world prepares
New York
Mayor Michael Bloomberg has announced a 250-point plan to prepare the city for the effects of climate change, after direct and indirect losses from Super-storm Sandy amounted to around US$19 billion in damages.
The US$20 billion plan covers a range of initiatives, including flood defences, retrofitting old buildings and ensuring the security of the city's power supply.
Tokyo
Japan's capital, which is home to about 13 million people, is flanked by rivers to the east and west, and has rivers running through it. It faces 33 trillion yen ($322 billion) in damages should the banks break on the Arakawa River that bisects Tokyo, according to government estimates. That's more than five times the cost of Sandy in the US.
The city has a history of flood defence work going back 400 years. One of the most recent innovations is a 13-year investment that has created a shaft tall enough to house the Statue of Liberty to feed water from five rivers into a reservoir carved underground. In December 2006, the city has adopted a target to reduce its greenhouse gas emissions by 25 per cent by 2020 from the 2000 level. This has included creating a 'cap and trade' system for major buildings that requires them to take energy efficiency measures or buy 'credits' from those who have.
Berlin
Berlin's Step Klima Plan applies measures to combat climate change in all the city's planning decisions. It aims to stabilise water and ecological ecosystems in the face of changing rainfall patterns, preserve rest and recreation opportunities in nature areas, open spaces and on Berlin's waterways, prevent an increase in the frequency of sewage overflow and the resulting pollution of Berlin's water resources and develop a 'climate friendly' city.
The silver lining: healthier, wealthier cities
A report by the UK-based Carbon Disclosure Project, based on data from 110 cities around the world, suggests that the action that cities are taking to mitigate or adapt to climate change are not only helping to reduce greenhouse gas emissions and make the cities more resilient, but also making them into much better places in which to live. The cities reported more than $40 million (NZ$50 million) in savings per year from tackling climate change. The vast majority, 91 per cent, also believe that working to combat climate change will lead to economic opportunities.
The report's authors said: "An increasing number of cities are putting resiliency and adaptation plans in place, up from 63 per cent in 2011 to 71 per cent this year. If you want to be a competitive, healthier city, you have to make these changes. More and more cities are thinking and talking about climate change related actions in terms of job generation, cleaner air, decreased congestion, better public services, rather than greenhouse gas emissions reductions, just because it's much more tangible for people. 98 per cent of cities report climate change as a risk. Most of them are reporting risks from temperature increases, heat waves and storms or intense periods of rainfall. On the whole this is right now. This isn't something they are looking at for their children or grandchildren, it is current, in 2013."
Like what you see? For weekly Element news sign up to our newsletter.
We're also on facebook and Twitter.