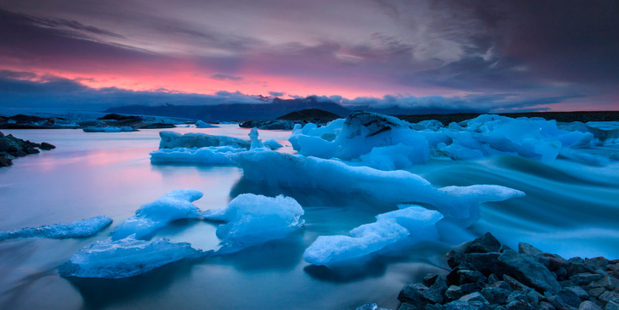 Anyone who has walked behind an old bus while it accelerates up a hill will be familiar with the burning of the eyes and stinging on the lungs that occurs when black smoke is inhaled.
Feeling this pain is our natural warning system that this stuff is bad for health, but research is now suggesting that black carbon - the smoke that results from the incomplete combustion of fuel - is also responsible for making glaciers melt faster.
And I have always wondered why they took away the pollution hotline in Auckland City for vehicles that were overly smoky.
But on a world scale, it is also the widespread use of wood fires that releases black carbon, which absorbs the sun's beams, melts the ice and heats the atmosphere.
Last week many people hunkered down against a weather bomb with a wood fire keeping them warm in New Zealand, but we usually have a chimney that removes the poison from our living room so we don't have to see what we are doing to the air.
But people all over the world rely on traditional wood fires for cooking, where the smoke has terrible health effects as well as damaging the atmosphere.
In India alone, over 800 million people rely on traditional mud stoves and as women are traditionally those that cook and collect fuel, they are impacted worse.
This all seemed like another doomsday environmental story until I saw what some clever people had come up with to solve the cooking stove dilemma.
A newly designed stove that reduces smoke produced by 70-80 percent and cuts the amount of fuel required in half may well be a key step to solving this issue.
As someone who believes strongly in the concept of open-sourced intellectual property for concepts that improve the wellbeing of people and the environment, I was literally stoked to see people developing such a clever device and sharing it with people in need.
If only some of the many other environmentally friendly technologies that were around were open-sourced, perhaps we would be making more headway in reducing our impact on the planet?
Another example is this inspiring video of lighting the homes of poor people using plastic bottles:
Or the plethora of great ideas that can be found if you use Google Translate on the this Argentinian website.
If you know of any other open-sourced ideas that can help the environment, please email them through to me or leave a comment as the more we know the more we can do.
Sam Judd is 2013 Young New Zealander of the Year and co-founder of the charity Sustainable Coastlines.