Planned marine park is too polluted with boats and runoff, write Garth Harris, Ron Martin and Jim Syme.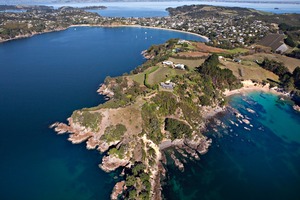 We support the creation of marine reserves, but are surprised a new one is proposed to be established in one of the busiest marine and residential areas of Waiheke.
The proposed reserve is off Palm Beach, Enclosure Bay, Sandy Bay and Hekerua. Sandy Bay and Hekerua are located in Oneroa Bay. For those not familiar with Waiheke, this is one of the most intense residential areas on the island and these beaches are also very popular with visitors and residents. This means these beaches are extremely busy and crowded in the warmer months and there is also significant recreational boat traffic.
Oneroa Bay is one of the most popular bays to moor at given its proximity to Oneroa Village and its often sheltered position. There are often hundreds of boats moored in this area in the summer. There are also large numbers of speedboats, jetskis, Sealegs and other craft launched daily from these beaches.
It is well known that fish are scared by propeller vibration, noise and boat wakes. The local fishermen can confirm that the fish leave the area in summer to escape the increased boat traffic. The boating traffic around this particular part of Waiheke is increasing every year, as are visitor numbers to Waiheke. The Auckland Council's predictions for population growth in Auckland City means that beach and boat traffic in this area will intensify significantly in the future. The pollution from such extensive recreational boating must also be detrimental to the success of a marine reserve being located in this area.
There is also pollution from the land next to the marine reserve to consider. The health and quality of the relevant ecosystems will be affected by the outflows to the sea from storm water drains and streams. At times these have contained sewage, oil from cars and other pollutants. In the latest State of the Hauraki Gulf Report, we note that 14 of the 52 beaches in the Gulf were unsafe for swimming so efforts need to be increased to reduce such pollution reaching the sea. A marine reserve should be located well away from densely populated areas to avoid contamination from such outflows.
Has the impact of the noise and general pollution from the extensive existing recreational boating and high residential population in the area really been considered? The Marine Reserves Act 1971 lists one of its criteria as maintaining "the natural habitat of marine life as far as possible". This will be impossible to do in this area. Given the size of the Hauraki Gulf and the many uninhabited islands isn't there a region that would be much more appropriate to locate a marine reserve? We find it difficult to understand that out of nine possible Waiheke sites that have been considered, the site with the greatest amount of residential and boating activity was found to be the most suitable location.
It has been suggested that this marine reserve would be a popular Waiheke visitor attraction and could have its central base at Enclosure Bay. This is a tiny beach surrounded by a residential area with parking for around 10 cars. How would this area of Waiheke cope with such a visitor attraction? There were 400,000 visitors to the Goat Island Marine Reserve in 2012 so significant numbers can be expected in the medium term.
There has been no planning for any new infrastructure required to service these visitors and the reserve itself (such as improved road access, extra parking areas for buses, toilets and other amenities). There has also been no consideration of the geographic limitations involved which make it impossible to accommodate the required infrastructure at these four beaches. There is currently serious parking congestion at all of these beaches over summer and no room for any additional parking.
This seems an ideal opportunity for all parties interested in the future marine sustainability of the Gulf to plan and create something unique and special for our region. It is more sensible to locate such a reserve in a much less populated area of the Gulf. This could be on a more remote part of Waiheke or in another part of the Hauraki Gulf that is convenient to Auckland City, such as Rangitoto.
Dr Garth Harris, Ron Martin and Jim Syme are residents of Sandy Bay, Waiheke Island.