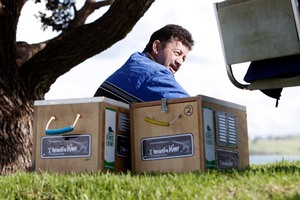 It was a toss-up whether Badger or Huhana was the 100th kiwi raised on Matakohe/Limestone Island in Whangarei Harbour.
But just which of the birds had the centesimal honour didn't matter when about 50 people gathered at Onerahi yesterday to farewell both kiwi as they were taken from the island for release at Whangarei Heads.
Many of those present were members of Friends of Matakohe/Limestone Island, who have eradicated predators and planted 150,000 trees to turn the island into a creche for infant kiwi.
The project manager for Backyard Kiwi, Todd Hamilton, explained how he put transmitters on male kiwi sitting on eggs in the area around Purua, northwest of Whangarei.
"The mums do the hard work producing the largest egg in the world, equal to 15 per cent of her body weight," he said.
"The dads then take over, sitting on the eggs for the world's longest incubation of 70 days. With the transmitter, I monitor the dads and when their activity indicates the egg they are on has hatched I go out there and scoop the chick up."
Mr Hamilton said the "dads" didn't mind as their chick-rearing duty ended with hatching.
Chicks were taken to Matakohe/Limestone Island where they grew to about 1.2kg in six months.
Badger and Huhana, both females - the larger of the kiwi genders - weighed more than 2kg as they had been on the island two years.
Badger was named after the late Chris Badger, who was general manager of Golden Bay Cement in 1998 when the company began to sponsor the Friends' work on the island. His wife, daughter and aunt were at yesterday's ceremony.
Huhana's name acknowledges her sponsorship by Greg Jones and Amy Tapper from Ideal Buildings. Their involvement with the kiwi began after the death of Amy's mother Susan - or Huhana in Maori.
Both birds were to be released near Urquharts Bay.
For more articles from this region, go to Northern Advocate