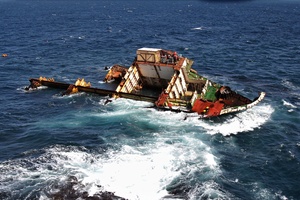 Tauranga's coastline is the region's pride but some people are treating it like a rubbish dump.
After reports of large amounts of rubbish on the beaches, the Bay of Plenty Times visited some of the coastline's most popular spots and found unsavoury items on the sand, in dunes and carparks.
Most of the rubbish was fast food wrappers and drink cans, although women's sanitary items, dirty underwear and nappies were also found.
As a result of the newspaper's survey, the city council is to step up rubbish monitoring on local beaches. Mount Maunganui's Tanya Austen said she picked up rubbish from the beach when she saw it.
"There's a lot of young people who just don't respect nature. We're known here for our beaches being beautiful and you can see what they mean to everyone after all the effort with the Rena clean-up."
Regular beach-goer Isla Murray said Tauranga was blessed to have a beautiful coastline and it was a shame that laziness was ruining it.
"We've got a beautiful coastline with the Mount in the background and people can't just walk to a bin to get rid of their rubbish. With people coming into our area we want it to look good and be proud of it, I think it's just a few people really that aren't that considerate."
Local man Brendon Burchell said he had noticed a build-up of rubbish over the summer at both Papamoa and Omanu.
"It's terrible, I picked some up the other day from Omanu. There were plastic bags, left-over drinks, cans, that sort of thing. I think the council does a good job, but it's a pretty sad state of affairs when we as taxpayers have to pay for someone to come and pick up after us."
City coastal park ranger Steph Brackstone was unaware of any recent complaints about rubbish but said she would increase monitoring on the beaches over the next month.
Mayor Stuart Crosby said locals looked after their beaches but a small element was undermining the coastline.
"It's the peoples' responsibility to look after their own rubbish in the first place. It can be very frustrating.
"Having a litter-free community is something we should pride ourselves on. It is the council's responsibility to keep the place tidy irrespective of people's habits, but it comes at a cost."
Tourism Bay of Plenty chief executive Rhys Arrowsmith said there was no excuse for littering.
"The community worked so hard to clean up our beaches during the peak of the Rena crisis and understandably we want to keep it that way.
"We have a very special environment and tourists love how we look after it; those found littering should feel the full force of the law."
For more articles from this region, go to Bay of Plenty Times