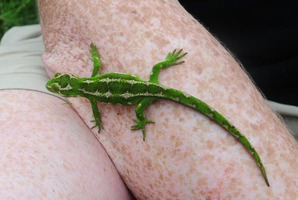 New Zealand's green geckos will be given more protection against smuggling following a decision at the Convention on International Trade in Endangered Species conference in Bangkok, Thailand.
Conservation Minister Nick Smith said all nine species of geckos will be protected making their export without proper authority illegal.
"Green geckos are found nowhere else in the world and have been targeted regularly in recent years due to the high value placed on them by collectors fascinated with their bright colour and striking markings.
"The Government has responded by promoting tougher penalties for smugglers caught on our shores under the Conservation Law Reform Bill, which I hope to pass this year.
"It's important we send a message that our endangered wildlife is off limits and thanks to the assistance of the international community we are now in a stronger position to deter would-be smugglers from trying to pilfer our valuable wildlife."
- APNZ