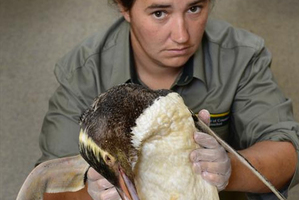 Bodies of more than 40 endangered yellow-eyed penguins have been found on Otago Peninsula, raising concerns of a repeat "mass mortality" event that wiped out 60 per cent of breeding adults in 1990.
Adult penguins have been found dead at 13 of the 15 breeding sites on the peninsula during nest checks in the past three weeks.
It is not known what caused their deaths but it was suspected a marine biotoxin eaten by the penguins was the most likely cause.
Yellow-eyed Penguin Trust chairwoman Lala Frazer said it was "absolutely devastating" and had all the hallmarks of the 1990 event when 150 breeding adults were found dead, possibly also because of a biotoxin but it was not know for sure.
"We're really worried as the population has only just recovered now to being back to a viable population from that episode."
They were also "afraid it is not over yet" and could have even greater impact on the population in the future if the birds kept dying.
Department of Conservation ranger Mel Young said it had been "tragic" to find the dead penguins as the breeding season had looked to be one of the best seasons she had seen. There were 181 nests found on Otago Peninsula this season.
Most of the dead penguins, including several juveniles and chicks, had been found near their nests or on the pathway to the beach, but more were believed to have died at sea or had not been found.
"This is quite hard, the adults were in excellent condition."
About 42 bodies recovered from sites from Blackhead to Aramoana during routine end-of-season chick monitoring had been sent to Massey University for post mortems but results had been inconclusive.
Further testing of the stomach contents of the birds was being undertaken by the University's Wildbase in association with the Cawthron Institute.
It did not appear that any other of Otago's breeding sites had been affected.
The deaths of the adults was doubly tragic as it meant many of this season's chicks had been left without parents to feed them, Ms Young said.
It meant they were dropping up to 1.5kg and many had been transferred to the penguin hospital at Penguin Place so they could be fed until they were at optimum weight for releasing.
Contingency plans were being developed by DoC and the Yellow-eyed Penguin Trust and would be implemented as soon as the test results became available, she said.
Breeding sites would continue to be monitored and DoC urged anyone who sees distressed or dead penguins to contact the department.