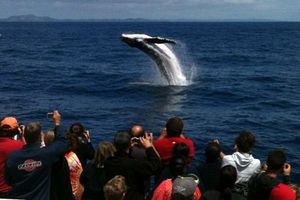 Visitors to the Bay of Islands were treated to a show they won't forget when a whale frolicked and leapt from the sea in front of their boat for at least 15 minutes.
The humpback, a juvenile about 12m long, was leaping backwards with almost its entire body out of the water - known as "breaching" - near the Hole in the Rock about midday yesterday.
It was seen by the passengers and crew of the Tangaroa, a Fullers GreatSights vessel on the day-long "Cream Trip".
Whale expert Jo "Floppy" Halliday, of Opua, was working as a guide on the boat when the young marine mammal put on a "fantastic show".
"It was a good 15 minute encounter. He was doing all these backwards and side breaches, playing and flapping his pectoral fins. He was definitely having a lot of fun."
The whale, which she estimated was about 6 years old, repeatedly swam close to the boat then powered down into the water before bursting out of the sea about 50m off the ship's bow.
About 90 passengers, mostly overseas visitors with a few Kiwi families, were on board at the time.
"There was absolute excitement. Like us, they were just screeching. That they got to enjoy something so special makes you feel really good."
One of the passengers thought he saw another whale blow about 4km away, which was likely to be the mother.
Ms Halliday said the "teenage" humpback was probably waiting for its mother to resurface.
The pair would have been slowly making their way south towards the cooler Southern Ocean for feeding. While humpbacks occasionally visited the Bay it was "totally unexpected" to see one at this time of year - when most had migrated south.
For more articles from this region, go to Northern Advocate