Residents angered as tree-filled gully is clear-felled for development.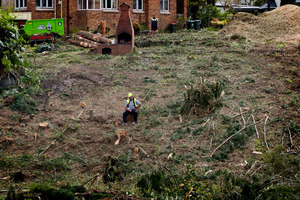 It took two days last week to flatten a gully full of native and exotic trees in Westmere into a "nuclear wasteland", angering residents who say the former owner would be heartbroken.
But the Auckland Council said developers were under no requirement to notify neighbouring homes around 35-39 Faulder Ave of the clearance, and a workman on the sections which cover more than 6500 sq m said very few of the trees were worth saving.
Former owner Auckland coroner Mate Frankovich, 83, died last year. But he'd spent a lifetime planting and tending fruit trees, pines, pohutukawa, rimu,and kauri in honour of his father, who died when he was 10.
Fife St borders the gully. Resident Phil Day said the former coroner would be "turning in his grave" as he'd always loved sharing the oasis.
Mr Day's daughter Alexia, 14, said the sound of heavy machinery and falling trees at 9am on Thursday was what alerted them to the destruction.
"It was so pretty in there, last Saturday we walked through it - it's like Narnia. We used to play in there when we were young. It is really sad."
Another neighbour, John Armstrong, said many residents assumed the trees were protected. To find out they weren't and that no consultation was required was a kick in the guts.
"Some of the pohutukawa were 50 feet (more than 15m) high, they were huge, they were magnificent. It's unbelievable it's been clear-felled. It looks like a nuclear wasteland."
He was planning a community meeting about the issue. Asked if it was too late, Mr Armstrong said he believed rules on the removal of trees needed to be clearer.
The Herald understands Parker Brothers Development and Construction now owns the properties. Yesterday, piles of woodchips sat waiting to be taken away while heavy diggers cleaned up branches and debris.
An onsite spokesman who declined to give his name said a specialist arbour company had been employed to assess more than 100 trees and on a three-component scale of good, fair and poor not one tree had rated above a fair grade.
He said more than 60 of the trees had been pines.
"There weren't many good ones [trees]. The old owner planted trees willy-nilly. Change is hard to accept."
New homes would be built on the land, but he did not know how many.
A Frankovich family spokeswoman said family members were shocked at the felling.
Council spokesman Benedict Collins said resource consent was usually not required to remove trees in the Residential 5-zoned area.
But because one section was more than 4000 sq m a resource consent was granted last month to allow for the removal of general protected trees on the site.