The Herald on Sunday is campaigning to get all of New Zealand out on the beaches this summer, keeping them clean for our kids and our grandkids. We'll be out with our rubbish bags - and we want you and your family to join us.
Make sure you're counted! You can register your support or participation through nzherald.co.nz or at facebook.com/sustainablecoastlines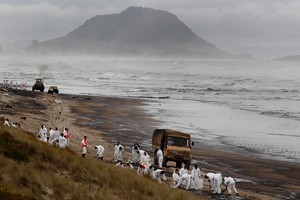 The team asking Kiwis to clean up our beaches also helped draw up emergency plans for dealing with the Rena disaster.
Sam Judd, who leads the Sustainable Coastlines charity, revealed his team was called on by Maritime New Zealand to spearhead a volunteer response to the worst environmental maritime accident in the country's history.
Judd hasn't forgotten the anger felt by Bay of Plenty locals after the vessel smashed into the Astrolabe Reef off Tauranga last October. Residents were also upset at being told their help wasn't wanted.
"There was a lot of negativity about the way the official clean-up campaign was initially being run," Judd said. "But this was the first time New Zealand has ever had to deal with an oil spill and officials took a huge leap of faith in using volunteers as a key part of the response.
"In the end it proved to be a very efficient world-first effort that we, and other oil-dependent countries, should replicate when such a disaster happens again."
Pim de Monchy from Bay of Plenty Regional Council was in charge of the initial volunteer response for Maritime New Zealand. He praised Sustainable Coastlines for stepping in.
"At first the community was in a bit of a rage over people not being allowed on the beaches," de Monchy said. "But the assistance we got from Sustainable Coastlines to create our volunteer programmes diffused a whole lot of tension."
Eco-warrior Judd, who will lead another volunteer clean-up in the BOP next weekend, said government departments were initially wary about people picking up oil on beaches, as the disaster happened in the run-up to a general election.
"But because we had experience of organising large beach clean-ups, we were asked to devise systems for managing groups of volunteers and equipment," Judd said.
"We also put together communication strategies to get the right information out to the right people.
"This was particularly effective when receiving crucial information from locals when new oil washed on to the beach, allowing us to rapidly mobilise teams of volunteers. We even drew up a health and safety plan for the volunteers, which was ironic considering there was a huge team of Government health and safety experts already at the scene."
About 8000 people eventually signed up to an official scheme for volunteers, who clocked up 21,000 man-hours during the process.
Meanwhile, 3464 waste items were removed from the Tutukaka Coast in Northland last Monday thanks to Beach Busters teams.
* Judd and his crew are at Mt Maunganui Beach next weekend, with teams of volunteers from the Herald on Sunday's Beach Busters campaign.
The clean-ups are next Saturday and Sunday, from 9am.
* * *
YOUR CHANCE TO WIN BIG
Win a camera every week
Take a photo of your friends or family cleaning up your favourite beach and go in the draw to win a Sony Cyber-shot TX10, valued at $649.95. With an Underwater Sweep Panorama function and 16.2 Mega Pixels you'll be able to take stunning underwater photos, as well as crystal clear shots on land. We have one camera to give away every week for the next 10 weeks to the person who takes the best photo, as judged by Herald on Sunday illustrations editor Chris Marriner. Five runners-up will each receive a copy of the book Beached As - New Zealand Beaches Then and Now by Craig Levers.
GRAND PRIZE
At the end of our Beach Busters campaign, the overall winner will receive a grand prize package comprising:
* a Sony Tablet S valued at $749.95
* a dive, snorkel or sightseeing trip for two to the Poor Knights Marine Reserve courtesy of Dive! Tutukaka
* $400 worth of clothing from surf label Sitka.
Entries close each week at Friday noon, and the winning photo will be printed each Sunday. So get snapping, and email your best shot as a JPEG to pictures@hos.co.nz with 'Beach Busters' in the subject line. Make sure you include your name, address and daytime phone number. Include a caption giving the place and full names of the people in the photo.
Please see terms and conditions at www.nzherald.co.nz/HOScompetitions. APN New Zealand reserves the right to store electronically any pictures entered in the competition and to use the images in any of its publications.