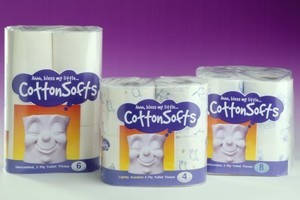 New Zealand toilet paper maker Cottonsoft says independent testing confirms its products are made from Asian plantation sources rather than rainforest timber, as Greenpeace claims.
It is the latest twist in the bog roll battle that has been raging since August between the environmental group and the manufacturer, which is a subsidiary of Singapore-based Asia Pulp & Paper (APP).
Cottonsoft, which has operations in Auckland and Dunedin, says Greenpeace's claims have damaged its brand and endangered the jobs of its 130 New Zealand manufacturing staff.
Its products include Tuffy Paper Towel, Paseo, CottonSofts and KiwiSoft Toilet Tissue.
In August Greenpeace said testing carried out in the United States showed Cottonsoft products contained fibre from Indonesian rainforests - the habitat of the endangered Sumatran tiger.
Yesterday, Cottonsoft said "independent testing" it commissioned Australia's Covey Consulting to conduct on three of its products showed they contained hardwood species - acacia and eucalypt - and softwood material, including spruce and Douglas fir, which were "standard pulpwood plantation species".
And the company that tested its products on Greenpeace's behalf - Integrated Paper Services - had since stated in a letter that there was no scientific basis for the environmental group's claims, the firm added.
Greenpeace was sticking to its guns yesterday, however, with executive director Bunny McDiarmid saying the group was standing behind its statements about Cottonsoft and APP.
"This is based on both robust forensic testing and years of experience on the ground in Indonesia, documenting deforestation and tracking the companies involved," McDiarmid said.
Greenpeace forest campaigner Grant Rosoman said the letter from Integrated Paper Services that Cottonsoft referred to stated only that its testing could not confirm that the rainforest fibre came from Indonesia.
"It could be from Malaysia," Rosoman said. Greenpeace's testing indicated that the amount of rainforest fibre in Cottonsoft's products varied from "trace levels" to 50 per cent.
"We haven't checked the rigour of the testing that was done [by Covey Consulting]," Rosoman said, adding that APP had converted millions of hectares of Asian rainforest into plantations.
Cottonsoft corporate affairs director Steve Nicholson said Greenpeace had conducted a misleading campaign against the firm.
Greenpeace's claims prompted Fooodstuffs to order Cottonsoft to conduct an independent audit of its products' sources, but Nicholson said no New Zealand retailers had withdrawn its products and it was unclear whether sales had been affected.
Food & Grocery Council chief executive Katherine Rich said Cottonsoft, like a number of the organisation's members, had been unfairly "scapegoated" by activists who used such campaigns to gather donations.