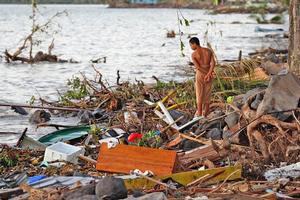 New Zealand scientists will island-hop around the Pacific for the next six months calculating how many houses, workplaces, pipes and roads would be in danger if there was another major natural disaster.
Geologists from the Crown-owned company GNS Science have won a contract with the Asian Development Bank to assess how buildings and infrastructure in vulnerable places would stand up to an earthquake, cyclone or tsunami such as the one that devastated Samoa's coast, killing almost 200 people last September.
A small team will spend the next six months travelling around collecting information, including checking local records and taking photographs and GPS locations of buildings.
The project is part of a joint initiative involving the Asian Development Bank and the World Bank Regional Partnership for Climate Change Adaptation and Disaster Preparedness.
The findings will go into a regional database decision-makers can use to help boost resilience to natural disasters and climate change.
The project leader, Phil Glassey of GNS, said that like New Zealand with its leaky homes issues some Pacific countries had had problems with building code compliance.
In some places it was difficult to find building materials, such as concrete aggregate.
Compounding the danger was that many desirable places for tourist and other accommodation were on the coast, leaving them potentially vulnerable to storm surges and tsunami.
"Having a nice resort on the beach which everybody loves to go to also puts it in danger from storm surge and tsunami and cyclonic winds," he said.
Mr Glassey said that once researchers had established the state of buildings and how much they would cost to replace, leaders could make decisions about strengthening them or even avoiding building in the most vulnerable places.
It would also help work out the cost of replacing buildings in the event of a disaster.
The researchers leave for the Cook Islands tonight and will visit, Fiji, Papua New Guinea, Samoa, Solomon Islands, Tonga, Tuvalu and Vanuatu before returning to New Zealand in September.
The whole project is expected to be finished in September 2011.