Kiwi camper business has 200 vehicles in the United States, and big plans for Europe and China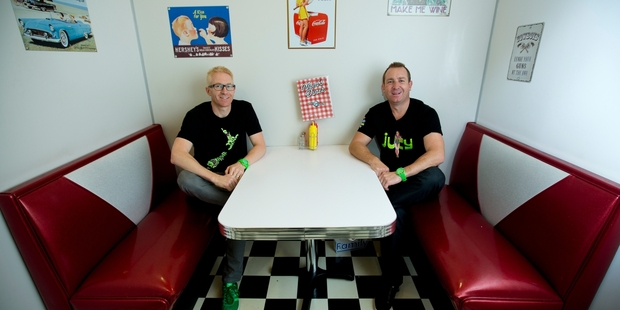 Americans are used to hitting the tourist trail in huge motorhomes, but Kiwi mini-campers now are making their mark Stateside.
Jucy Group, the decade-old business of brothers Tim and Dan Alpe, is winding up its second summer season on the United States' West Coast, having lifted its fleet to almost 200 vehicles.
The firm's bold purple and green vans, decorated with curvy redhead Jucy Lucy, have caught the imagination not only of the American travelling public, but also travel writers for the New York Times and Conde Nast Traveller.
It's valuable exposure for the brand, which chief executive - or "chief Jucyfier" in Jucy lingo - Tim Alpe says has to rely on its brightly-hued vehicles and a spot of guerrilla marketing to get noticed in such a vast market.
"It sticks out a little bit and it's a bit more fun and unique to what you currently get in the US market," Alpe says.
That brand awareness and loyalty is boosted by the use of social media to communicate with customers.
Facebook fans are rewarded with discounts, and streams of customer pictures feature on the company's social media feeds.
The firm, which began business in 2001 with a fleet of 35 Daewoo Lanos cars bought from the Auckland District Health Board, now has 2700 vehicles on the road in New Zealand, Australia and the US.
Add to that a cruise business in Milford Sound, coaches shuttling tourists from Queenstown, a hotel and short-term car rental business in Auckland, plus a facility in Helensville creating the van interiors.
All up, Jucy employs 200 people across the world.
The company's bid to break into the American market got a financial boost in 2011 with a $500,000 low-cost loan from the University of Auckland Business School Entrepreneurs' Challenge, a year after Alpe was named Ernst & Young Entrepreneur of the Year.
The trophy cabinet got another addition last night when Jucy was a joint winner in the AUT Business School Most Innovative Business Model in International Business category at NZTE's international business awards, alongside The New Zealand Merino Company.
It was also a finalist in the ANZ Best Business Operating Internationally, $10 million to $50 million category.
Alpe says the brand's scope is endless. "We're pretty passionate and buoyant about making this business a global tourism brand, that's where we want to see it, and that's very much our goal at the moment.
"We're realistic that we're probably going to have to bring on capital to help achieve those goals and that may be in the form of an IPO and we still see this business as a perfect business to be a listed entity. Whether that's next year, or two years, or three years, that's a little bit unknown at the moment but we will have to raise capital, which we haven't done yet."
There are just three shareholders: brothers Tim and Dan - the firm's chief operating officer - and their father, Chris, the Maui campervans pioneer.
Any additional funding will be pumped into growing the fleet and opening up new markets.
Jucy already has its sights set on Europe, where it has established a sales office, but the bigger prize is China.
"We see that as the next big stage of our development up there and I think people who don't think it's going to happen are dreaming," says Tim Alpe.
"China is going to be the biggest operator into New Zealand eventually, or definitely second to Australia, so you've to be very much aware of that market."