A viral marketing campaign launched to promote Ghost in the Shell has backfired as fans hijacked it to complain about whitewashing.
A teaser for the movie - which spent several months filming in New Zealand - features Scarlett Johansson in character as The Major saying "I am hunted. I am the hunter. I am coming for them. I am Major".
Fans were then directed to a website that asked them to add a photo of themselves and finish the sentence, "I am ..."
Internet users rapidly took the campaign in a different direction, using the website to criticise the film's whitewashed casting of Johansson as a character who is originally Japanese.
Images were quickly captured and reposted by Twitter users
The Ghost in the Shell Website https://t.co/eqy8CpndC6 has a meme maker of sorts where anyone could "become Major" so I had some fun.... pic.twitter.com/EadKs04H9a

— VzA (@ValerieComplex) March 11, 2017
@ValerieComplex #IAmMajor pic.twitter.com/QSETZMjCGm

— Jenn Chien (@ChienJenn) March 13, 2017
Pictures were shared as people used the campaign to criticise Hollywood's history of whitewashing in big-budget films.
.@ValerieComplex pic.twitter.com/aGSlz5jggo

— Tina (@Nice_White_Lady) March 12, 2017
@weimingkam @KellyKanayama @helpmeskeletor @JennLi123 pic.twitter.com/LMSKxFFNp7

— VzA (@ValerieComplex) March 12, 2017
У «Призрака в броне» появился сайт IAmMajor.me. Здесь можно создать собственный постер с крутым слоганом. И теперь нас не остановить: pic.twitter.com/fDfcEeT1IP

— Vertigo (@Vertigo_com_ua) March 13, 2017
Johansson addressed the controversy recently, telling Marie Claire: "I certainly would never presume to play another race of a person. Diversity is important in Hollywood, and I would never want to feel like I was playing a character that was offensive.
"Also, having a franchise with a female protagonist driving it is such a rare opportunity. Certainly, I feel the enormous pressure of that-the weight of such a big property on my shoulders," she said.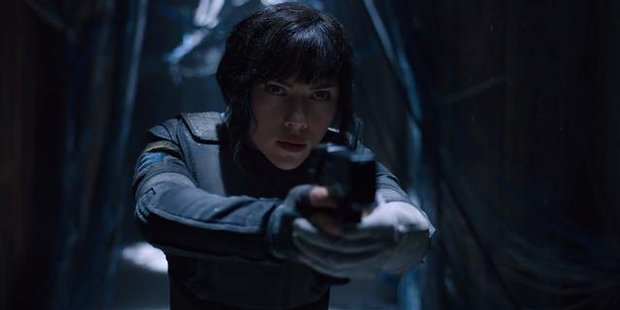 Ghost in the Shell was primarily filmed in Wellington, with Johansson describing the experience as "quiet" and "pleasant".
Journalists were told not to ask Johansson about the whitewashing claims during a set visit in Wellington.