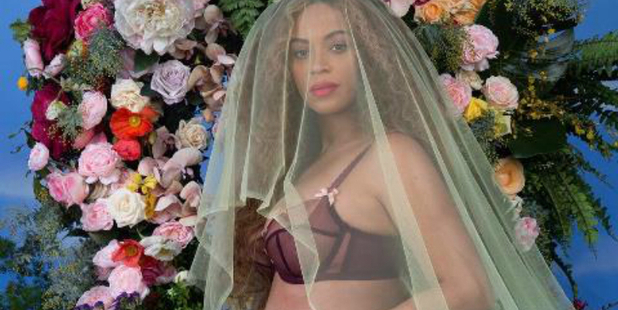 Beyonce is pregnant with twins, and for her legions of fans, all is right in the world (at least for a moment).
Since announcing her pregnancy via - what else - the medium of Instagram maternity photo shoot this morning, social media has been abuzz with speculation about the news, much of it hilarious, as her fanbase goes into meltdown.
First of all: That announcement. The pregnancy photo shoot. Even the caption.So Beyonce.
Preemptively thanking people for well wishes is iconic. pic.twitter.com/OoQgPLSwZO

— Alt Sober (@KingBeyonceStan) February 1, 2017
the level of extra I hope to achieve: Beyoncé's maternity shoot

— vanessa (@basedvanessa) February 1, 2017
I'm still shocked Beyoncé had a whole ass Mother Nature esque photoshoot just to announce her pregnancy on Instagram.

— history guy pietro (@brxwncanadian) February 1, 2017
Sad that there are more black people in Beyoncé right now, than in Trumps entire cabinet team.

— Gráinne Maguire (@GrainneMaguire) February 1, 2017
When Trump basically threatens to go to war with Iran but Beyoncé is also having twins. pic.twitter.com/6vcKIDPaMg

— John Haltiwanger (@jchaltiwanger) February 1, 2017
The world is burning and Beyonce's response is: MAKE TWO MORE BEYONCES

— KOBE BUFFALOMEAT (@edsbs) February 1, 2017
Beyoncé sensed that we were all in need of good news, and so Beyoncé got pregnant with twins. Beyoncé is a woman of and for the people.

— Kelly Andersen (@kellyamedia) February 1, 2017
Beyoncé Two Minutes after announcing she was pregnant on Instagram pic.twitter.com/O7vRpTCSXV

— Shemar (@xoShemar) February 1, 2017
Beyonce leaving the set of her Instagram photoshoot pic.twitter.com/Ml49NuvSbQ

— Rajesh Sankat (@rajeshsankat) February 1, 2017
Freaking out because it's clear so many people around me don't know Beyoncé is pregnant with twins, I can tell by looking at them

— Caity Weaver (@caityweaver) February 1, 2017
Me interrupting a group of scared men like "OK BUT DID YOU HEAR BEYONCE'S HAVING TWINS" pic.twitter.com/ycyUuIKRtk

— Caity Weaver (@caityweaver) February 1, 2017
Meanwhile, what's going to happen about Coachella? Bey's headlining the music festival, taking place three months from now. She's gonna be real, real preggers by then.
Caught myself in a mirror. Hair disheveled, clothes rumpled...but literally the only thing I've done today is learn Beyoncé is having twins

— Caity Weaver (@caityweaver) February 1, 2017
Beyonce handing the Coachella people her doctors note to not perform pic.twitter.com/8V51PynB7P

— Ka'Troy Kardashian (@mrLdavis) February 1, 2017
"Yo you heard Beyonce having Twins?!"

Coachella Producers: pic.twitter.com/FhFxgjGQ7e

— Lynx (@MaAdLynx) February 1, 2017
Beyoncé live at coachella 2017 pic.twitter.com/oXLbdnO1oR

— breno (@blackbillgtes) February 1, 2017