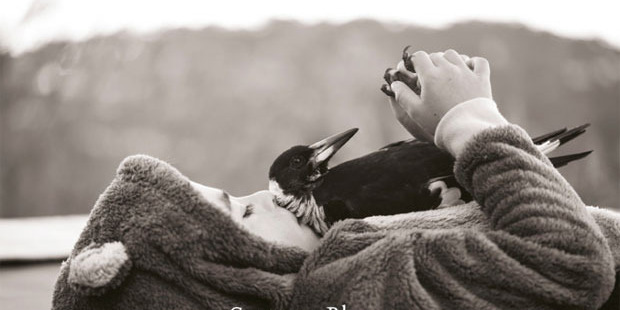 Although released in New Zealand only last month, this book, subtitled "The odd little bird who saved a family", is already one of my all-time favourites, and I have loaned and read it to various family members who also adored it. There's a powerful combination here: the story of a family tragedy, then a rescue and redemption from the most unlikely quarter - an injured, abandoned magpie chick.
It's a book to warm even the coldest heart and part of its appeal is that it is a true story.
Far more importantly, this is a work of art: stunning photography, combined with carefully sparse writing, all wrapped up with the most curious twist. This is to do with the pace of the story, how photographs and story unfold together and the way each part of the tale is matched.
Australian Cameron Bloom is an internationally acclaimed photographer, his pictures appearing in Vogue, Harper's Bazaar and The New York Times. While he and his family were holidaying in Thailand, his wife Sam suffered a shocking accident that left her paralysed and deeply depressed.
Then Penguin - named by the kids for her black and white plumage - fell out of a towering Norfolk Island pine on to cold asphalt. She is pictured in a variety of poses - with a leg around a toy monkey, holding an exercise bar alongside Sam, atop the boys' heads, standing on a metal kitchen grater while Sam grates a carrot through it, resting in bed with the family, among others.
Her feathers and features are photographed in delightful, beautiful close-up detail. Her claws appear alongside a child's fingers. She stands in lonely silhouette. She is being cuddled, wrapped in blankets, watching sport, examining a whole fish from above and lying down with a magpie ornament the same size as her. The pictures are so intensely beautiful, they are almost hard to look at.
Bloom sure knows how to shortcut 1000 words with each of his photographs. Behind all this, we learn how Penguin gives Sam great strength and joy, demonstrating that love heals even the most terrible injuries.
Best of all, this beautiful magpie is never caged: "Penguin was a wild bird and we didn't want her to grow up and be any other way," Bloom says.
She is now an Australian social media phenomenon with more than 100,000 followers on Instagram and with her own website, penguinbloom.com. Now this beautiful full-colour hardback book can spread a message of rescue, healing and redemption on our side of the Tasman.
Magpies aren't always the most-loved birds, feared by some, hated by others, admired by a few. So to love a magpie is to go against the grain.
In 1991, my mother rescued a One Tree Hill magpie chick, subsequently named Maggie Thatcher. The dear bird lived with our family for a few short but wonderful years, featured on a national radio show, went from copying the sounds of ambulances on the isthmus to mimicking seagulls as she grew up with our young boys, as trusting and loving as could be.
Living with Maggie was a bit like reading about Penguin Bloom: the most immense, extraordinary privilege, one never to be forgotten.
Penguin Bloom by Cameron Bloom and Bradley Greive
(ABC Books $30)
reviewed by Anne Gibson