One minute he's making a public appeal for people to follow the rules, the next minute he's breaking them.
Within minutes of a Southport court being shown a video of a contrite Johnny Depp recommending people adhere to Australia's strict biosecurity laws, the Hollywood heavyweight was spotted publicly flouting another law - Queensland's tough anti-smoking legislation.
Not long after he was overheard asking members of his entourage where he could "have a smoke" during a break in proceedings at Southport Magistrates Court yesterday afternoon, Depp was spied blowing smoke on an upper-level balcony at the rear of the building.
Smoking is not allowed inside Queensland law court complexes.
Depp puffed away in full public view as he chatted to his wife Amber Heard, his longtime bodyguard Jerry Judge and another member of his permanent security team.
A senior courthouse spokesman said a courthouse staff member granted Mr Depp permission to smoke on the balcony after the actor's security team raised concerns about his safety.
"Smoking is not permitted in Queensland courthouses," the spokesman said.
"In this instance, Mr Depp was authorised to smoke by a member of the courthouse staff.
"This was at the request of Mr Depp's security personnel, who were concerned for his welfare should he leave the building, due to the extraordinary public interest in today's proceedings."
The spokesman said the "situation is being reviewed".
"Courthouse staff will be reminded of their obligations," the spokesman said.
"Mr Depp acted in good faith and no further action is anticipated."
Queensland Law Society president Bill Potts said smoking was not permitted at Southport Courthouse.
"It's not permitted, unless they thought there was a security issue surrounding them," he said.
"You can't smoke in a government building but there is an outdoor area outside the jury room.
"There is a balcony.
"It can be the case that members of juries, in intense discussion about freedom or liberty, might need a calming durrie."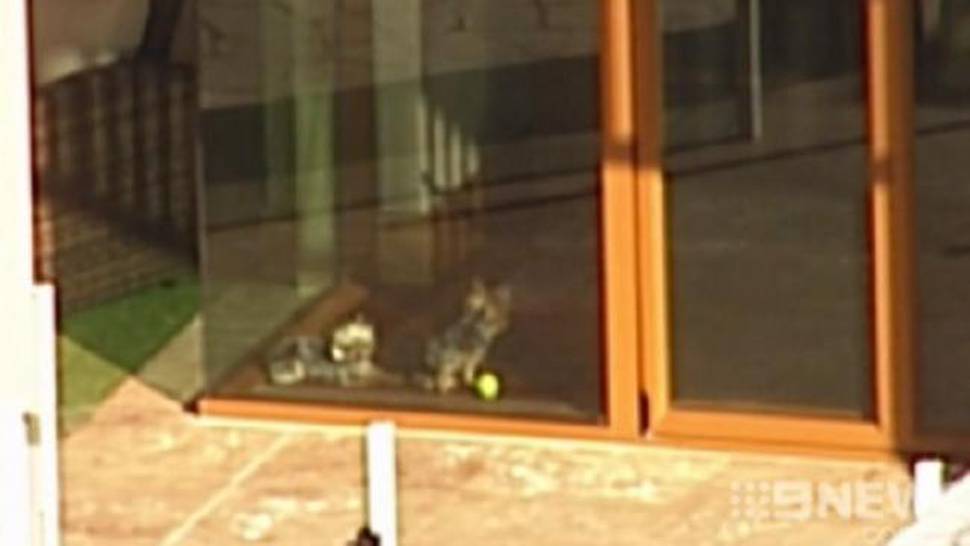 Mr Potts said it was unlikely Mr Depp would be pursued for smoking on the balcony.
"There's an unspoken law that the law should not concern itself with trivialities," he said.
"It's hardly the crime of the century."
May we suggest Mr Depp consider filming a video to make amends?
"A remake of Yul Brynner's "whatever you do, don't smoke" message would do the trick.
Shaggy dog story: 'Hostage' style video helps Heard escape conviction.
A cringe-worthy video showing a grim Johnny Depp and Amber Heard apologising for bringing their dogs, Pistol and Boo, into the country has seen the actress walk free from a Southport court.
Filmed when the couple arrived on the Gold Coast on Sunday, the 40-second "hostage" style video apology stars Depp and Heard, 29, sitting side by side as they take turns to read a script pre-approved by staff from the Federal Department of Agriculture and Water Resources.
In what can only be described as stilted performances, the couple urge viewers to take Australia's biosecurity laws "very, very seriously".
A downcast Heard says she is truly sorry Pistol and Boo were not declared and acknowledges Australia must be protected from diseases found in other countries.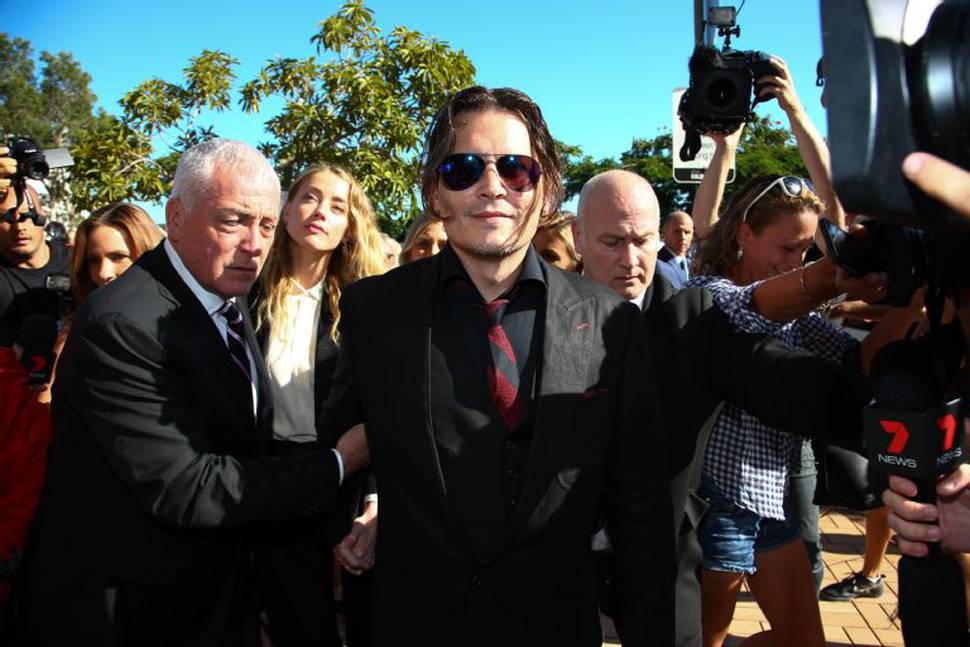 "Australia is a wonderful island with a treasure trove of unique animals, plants and people," she says.
"If you disrespect Australian law, they will tell you firmly," an unimpressed-looking Depp deadpans.
"Declare everything when you enter Australia."
In what has been interpreted as a reference to Mr Joyce, Depp describes Australians as "unique" - "both warm and direct".
The video, described by Heard's lawyer as an attempt at restitution, has been handed over to the Department of Agriculture and Water Resources to be used as an educational tool.
The short went viral within hours of being posted online, with fans taking to social media to ridicule the actors' performances and sincerity.
The deal-clinching footage was played in a Southport court yesterday before being released publicly via Deputy Prime Minister and Agriculture Minister Barnaby Joyce's Facebook page.
Read more:
• Martin Henderson takes on Grey's challenge
• No babies? No Bachelor
"I don't think it was something they would have willingly wanted to do," Mr Joyce said.
Heard yesterday pleaded guilty to a charge of providing a false document to Customs officials in April last year when she and Depp flew into the country on a private jet.
No conviction was recorded.
Mr Joyce confirmed the video was part of a deal struck by Heard, Depp and the Department of Agriculture which saw two counts of illegal importation against Heard dropped.
The outcome marked a stunning backflip by Mr Joyce, who made international headlines last year when he threatened to euthanise Heard's dogs Pistol and Boo if they didn't "bugger off" from Australia.
"If we start letting movie stars, even though they've been the sexiest man alive twice, to come into our nation, then why don't we just break the laws for everybody," Mr Joyce said at the time.
"It's time that Pistol and Boo buggered off back to the United States."
Mr Joyce said yesterday he hoped the video would serve as a warning that biosecurity in Australia is no joke.
Asked if it should be shown to passengers on flights to Australia he said: "I would enjoy that. That would be something for Qantas and other airlines."
Hold the Oscars - this could be the comedy/drama of the century
Only on the Gold Coast!
Where else in the world could movie fans secure a front-row seat to see an A-list Hollywood star and his beautiful young bride star in the premiere of a real-life courtroom drama played out in their own backyard in real time?
Johnny Depp and Amber Heard treated fans both inside and outside Southport Courthouse to a free, unforgettable never-to-be-repeated performance yesterday as Hollywood made waves on the Gold Coast with the straight-to-video matinee, Who Let The Dogs In?
The previously recalcitrant couple were a picture of compliance as they arrived at court shortly before 9am to a hail of cheering, screaming, pushing and jostling fans and photographers.
Read more:
• Depp and wife share educational video during trial in Australia
• Matt McLean bids farewell to NZ
Flanked by members of Depp's personal security team and shielded by a large cordon of Queensland Police officers, the couple were forced to fight their way through the throng to get through the doors of the courthouse.
Dressed in a black suit, trademark collar turned up and sunnies in his pocket, Depp smiled and waved at wellwishers as his longtime personal bodyguard, Jerry Judge propelled him through the crowd.
Asked if he planned to bring his rock supergroup, Hollywood Vampyres, to Australia as part of their current world tour, the guitar-playing father of two smiled and replied: "Yes, I certainly hope so."
Curious members of the public were stopped at the courtroom door as journalists and officials from the Department of Agriculture filed in to listen to what was supposed to be the start of a four-day trial.
When two charges were dropped and Heard pleaded guilty to a third, it became clear her doggone drama would be done and dusted by day's end.
lain clothes security staff circled the courthouse building, both inside and out, for the next six hours, reminding people not to try to film or photograph the Pirates of the Caribbean star.
Depp, obviously jet-lagged, struggled to stay awake as the proceedings dragged on.
"Heard's lawyer must be getting paid by the word," one observer joked during a protracted submission by her defence team.
Heard stroked her husband's face and whispered in his ear throughout the morning and nudged him awake when his eyes began closing as the afternoon dragged on.
Depp squeezed his wife's hand, smiled reassuringly and scribbled notes for Heard's eyes only.
"This has got to be resolved today to let people get on with their lives," the magistrate said, before the court adjourned until 2.30pm.
After a quick smoke on an outdoor balcony, Depp made his way back to Court 10 for the last time, signing an autograph for a lucky fan on the way.
He and Heard embraced before Heard kissed her lawyers after the decision was read out - a $1000 good behaviour bond and no conviction recorded.
"We're very happy," Depp said as he left the courtroom.
The couple were lead back through crowds gathered at the courthouse doors, ushered into customary black vehicles with tinted windows and whisked back to their six-star accommodation at Palazzo Versace.
To be continued.
Roll credits.
- news.com.au