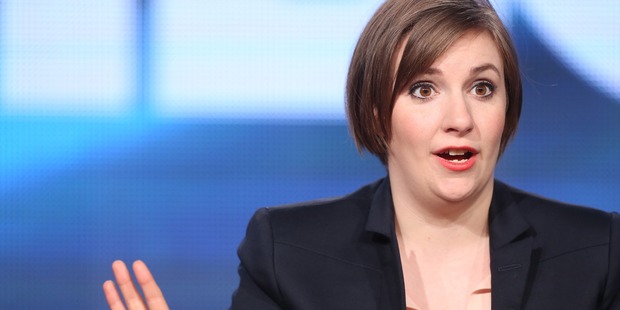 Girls star Lena Dunham has sworn off the use of Photoshop in shoots, saying she will "bid farewell to an era when my body was fair game".
The 29-year-old, currently recovering from a ruptured ovarian cyst, wrote in an essay for Lenny Letter on Tuesday that she "barely recognised herself" on the front cover of a recent Spanish magazine.
The picture, which Dunham said originally ran in Entertainment Weekly in 2013, altered the actress' skin and limbs."I wanted to tell people, loudly: 'That's not my body!"' Dunham wrote.
Hey Tentaciones- thank you for sending the uncropped image (note to the confused: not unretouched, uncropped!) and for being so good natured about my request for accuracy.

I understand that a whole bunch of people approved this photo before it got to you- and why wouldn't they? I look great. But it's a weird feeling to see a photo and not know if it's your own body anymore (and I'm pretty sure that will never be my thigh width but I honestly can't tell what's been slimmed and what hasn't.) I'm not blaming anyone (y'know, except society at large.) I have a long and complicated history with retouching. I wanna live in this wild world and play the game and get my work seen, and I also want to be honest about who I am and what I stand for. Maybe it's turning 30. Maybe it's seeing my candidate of choice get bashed as much for having a normal woman's body as she is for her policies. Maybe it's getting sick and realizing ALL that matters is that this body work, not that it be milky white and slim. But I want something different now. Thanks for helping me figure that out and sorry to make you the problem, you cool Spanish magazine you. Time to get to the bottom of this in a bigger way. Time to walk the talk. With endless love, Lena PS I'd love the Tentaciones subscription I was offered!
"Seeing the photo got me thinking about the real issue, which is that I don't recognise my own f***ing body anymore. And that's a problem."
Dunham said she initially had no qualms with touched-up photos, despite her tendency to bare all on television.
"This was a kind of cognitive dissonance I didn't want to, and couldn't yet, consider," she wrote. She said "something snapped" when she saw the Spanish magazine's front cover.
More from Spy:
• Kiwi model struts with Gigi and Kendall
• Get ready to cringe at TV2's new dating show
"Maybe it was the fact that I no longer understand what my own thighs look like," Dunham wrote.
"The gap between what I believe and what I allow to be done to my image has to close now.
"If that means no more fashion-magazine covers, so be it. Dunham declared said she was "your girl Friday" to any magazines willing to photograph her without touching-up the final product.

- AAP