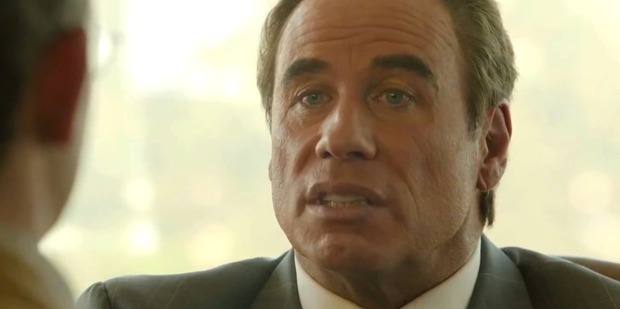 John Travolta's appearance in American Crime Story has fans worried the Pulp Fiction star's face might be melting.
Travolta, 62, plays OJ Simpson's lawyer Robert Shapiro in the show, a fictional account of the the real-life murder trial of the famous footballer.
But Travolta's appearance has sparked some hilarious reactions from fans.
In the show, which screens on Sky TV's SoHo channel on Wednesdays at 8.30pm, the actor sports slicked back hair, a deep tan, bushy eyebrows and stern but camp range of comical expressions.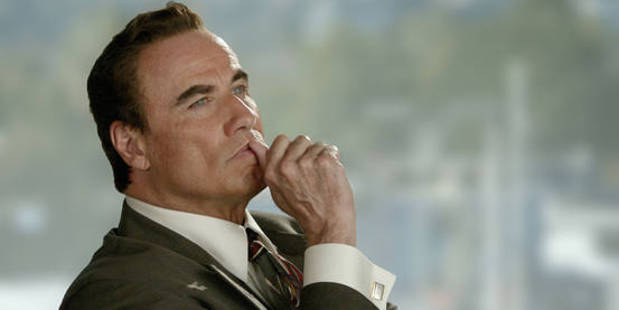 Fans have asked what's happened to Travolta's face, and queried whether the star had been under the knife.
"How freaked out are you about John Travolta's face?" asked one fan.
"It's worth watching The People vs OJ Simpson just to see John Travolta try to act with his face tied behind his head," joked another.
A third compared his appearance to a Mr Potato Head toy with mix-and-match features.
John Travolta in "The People vs. O.J. Simpson" is what it would look like if we tested makeup on lions.

— Sean Brewster (@TheSeanBrewster) February 17, 2016
John Travolta preparing for his role in The People vs OJ Simpson. pic.twitter.com/YicAHSVAvv

— Matthew Sweet (@DrMatthewSweet) February 20, 2016
Has anyone seen The People v OJ Simpson? Oh my days, John Travolta's plastic surgery!

— eyegazeartist (@sarahezekiel) February 23, 2016
I'm not sure what John Travolta is doing in this OJ Simpson thing, but calling it 'acting' feels like an insult to the craft

— anghus (@AnghusFM) February 12, 2016
The AC is up high so John Travolta's face doesn't melt. #ThePeoplevOJSimpson #ACSFX

— Mr. Watson (@indoob) February 3, 2016
Why doesn't John Travolta's face move in The People vs. OJ Simpson?

— Grace (@graceemck) February 11, 2016
Who's watching the people v oj simpson and how freaked out are you by john travolta 's face?

— katy nickless (@katybaggies) February 21, 2016
It's worth watching The People vs OJ Simpson just to see John Travolta try to act with his face tied behind his head.

— Nick Hussey, Vulpine (@aslongasicycle) February 17, 2016
John travolta looks crazy af in the OJ Simpson show lol

— em. (@steffmerk) February 11, 2016
If you're not watching The People v. OJ Simpson miniseries, you're missing out on an absolutely epic performance by John Travolta's face.

— Tom Mutdosch (@tommut) February 11, 2016
Watching the OJ Simpson mini series and the only thing I can focus on his how tight John Travolta's face is.
The man looks like leather.

— Jeannine (@jeanninemevans) February 7, 2016
I would strongly advise John Travolta to avoid standing near any fireplaces...Im afraid he may melt. #HadSomeWorkDone #PeoplevsOJSimpson

— Tim (@Dangerous180) February 22, 2016
Cuba Gooding Jr, who plays Simpson in the show, told People Travolta was his favourite co-star of all time.
"Besides singing with him to entertain the gallery of the courtroom, I just enjoyed hearing stories of his life from [sitcom] Welcome Back, Kotter to travelling with Michael Jackson," he said.
- nzherald.co.nz