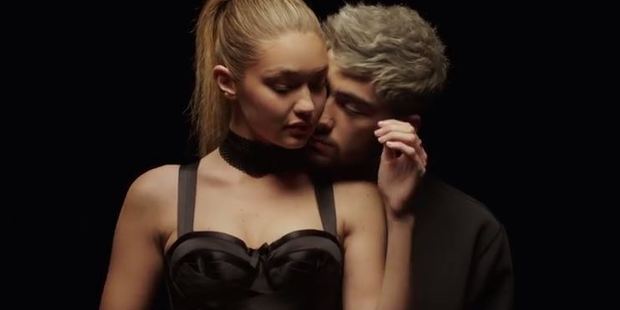 Zayn Malik's debut solo single PillowTalk has people talking with its sexy new video featuring Gigi Hadid.
The former One Direction star tweeted a link to the download and the accompanying video after it was played on some US radio stations.
It appears to mark a departure from the clean brand of pop produced by his former band, with the song featuring several expletives.
The music video sees a blond Malik, 23, kissing model Gigi Hadid.
Some of his fans on Twitter reacted with delight.
Am I the only one who can't stop listening to #PillowTalk and can't stop watching it ?? @zaynmalik congrats love the new music

— Mimi (@mimirox11) January 31, 2016
I actually really like #PillowTalk. It's exactly what I expected from Zayn.

— BRANDON EVANS (@bevansisme) January 29, 2016
@zaynmalik the substitution chords in the 2nd half of that 1st pre-chorus bridge are killing me. well done.

— wheatus (@wheatus) January 31, 2016
The launch of his solo career follows his sudden departure from One Direction early last year.
Ahead of the single's release, Malik revealed he did not want to be in the boy band from very early on.
More from Spy:
• Will TVNZ's new drama live up to the hype?
• Happy anniversary Art and Matilda
Malik spent four years with Harry Styles, Niall Horan, Louis Tomlinson and Liam Payne in the band which was put together on ITV's The X Factor.
But he told DJ Zane Lowe: "I think I kind of always wanted to go."I just gave it a go because it was there at the time. I think I kind of always wanted to go. From the first year, I never really wanted to be there in the band."
Malik's first album is due out in March.

- AAP