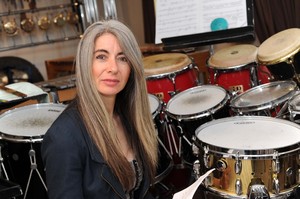 Despite the temptation to stay home and catch Auckland Philharmonia Orchestra's Glennie at Olympus concert streamed live, there was almost a capacity turnout at the Town Hall.
John Psathas' piano and percussion concerto, View from Olympus, is one of New Zealand music's big successes. Premiered by Dame Evelyn Glennie at the Manchester Commonwealth Games in 2002, it has gone on to be played in Germany, Canada and Australia as well as four times back home.
This, the fifth, revealed that Psathas' Pacific/Aegean mix still retains its pulsating allure.
One was easily bewitched by the sonic frisson of Glennie's initial musical tangling with pianist Stephen De Pledge; a lulling calm before the Furies of the first movement enter.
Even when obsessional, full-on riffs threaten to take over, there is a palpable sense of visceral daring. One was caught up in the almost primal confrontation of De Pledge, locked at his piano, and Glennie, stalking around her percussion stations like a sleek leopard in an invisible cage.
The one disappointment came in the encore. Psathas' miniature Fragment was originally scored for vibraphone, piano and bass. While it was a coup to have Glennie and De Pledge render it as a piano duet, musical losses were incalculable.
After interval, Hans Graf had the orchestra to himself in Rachmaninov's Second Symphony.
The opening Largo's rich, resonant strings balanced sonorous brass and woodwind.
Tinges of melancholy crept into the first Allegro but, when the tempo was upgraded to Allegro molto, there was the slash of Cossack sabre in its bars. And hearts may have been melted by the expressive Adagio, floating on banks of luscious strings.
Good news - this terrific evening is available online for a fortnight.