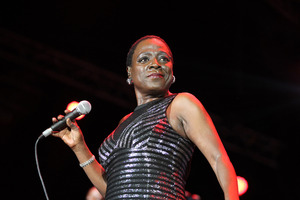 If that show didn't convert you to Sharon Jones' special brand of musical religion, then perhaps the musical gods can't help you.
Returning to Auckland for the first time since 2010, the soul-powered pocket-rocket and her sensational 10-piece band delivered a truly uplifting, high-octane 90 minute set that showed Jones is easily the equal of Tina Turner, and Shirley Bassey when it comes to electrifying an audience. And The Dap Kings may just be the tightest, most satisfying band on the planet.
The two Dapettes - Saun and Starr - opened the show, getting the near capacity crowd warmed up with their own sassy soul mama routine, and Dap Kings band leader Binky Griptite whipped the crowd into an appropriate state of jovial anticipation, so that when Jones strutted out in her sparkly white and blue number, to Stranger To My Happiness, you knew you were at the best party in town.
Only two songs in, she was pulling a dapper gentleman in a baby-blue blazer up on stage to shimmy and shake along to You'll Be Lonely, the pair amply proving you don't have to be young to get down. A few minutes later she was trading improvised a capella licks with bass player/song writer/producer Bosco Mann (aka Gabriel Roth), sounding as funky as ever.
They continued their run through tracks from their latest album Give The People What They Want with Long Time, Wrong Time, before Jones got the crowd in stitches doing an uncanny Tina Turner impression, and telling the story of her recent battle with cancer in a quick-time version of Get Up and Get Out.
At that point, the whole show had felt like an encore, so joyous and energised, but they slow it down just a touch for a Goldfinger-esque rendition of When You Love Me which perfectly illustrated the frequent genius of The Dap Kings' arrangements.
They kept swinging through Better Things To Do, knocked out old-time favourite How Do I Let A Good Man Down? and then got the crowd, and Jones, hollering along as each band member had a chance to show off their individual musical mastery.
2010 hit I Learned The Hard Way provided another moment to slow down the hip shaking, but Jones was soon right back in the dancing zone as she led the crowd through moves like the jerk, waddle, twist, pony, and swim to People Don't Get What They Deserve, explaining that there was no room for twerking and breakdancing on her stage - "I prefer some good clean dance moves from 1964".
They ramped things up another notch with a little mariachi trumpet on Now I See, and swooned to Making Up and Breaking Up, before lifting the crowd once more with perennial favourite 100 Days, 100 Nights.
The crowd stamped and whooped and whistled until the band returned for this year's hit single Retreat!, and though everyone was clearly keen for more, it did seem like a fitting number to top the night with, a fiery and righteous end to their super-soul revue.
Sharon Jones & The Dap Kings
Where: Bruce Mason Centre
When: Thursday September 4, 2014