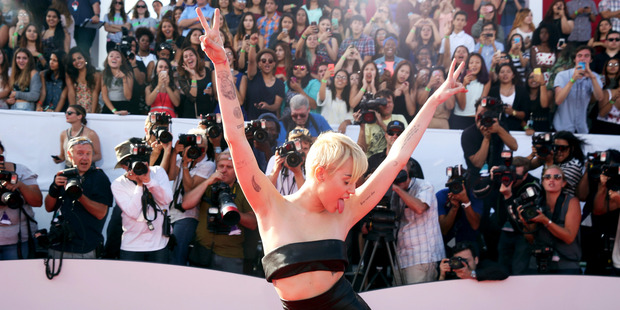 Miley Cyrus has compared Instagram and Facebook to drug use, in an interview with Australian current affairs programme Sunday Night.
Cyrus, who has a tattoo that reads 'Love your brain', was asked interviewier Chris Bath, "does it ever bother you that drugs could hurt your brain?".
"Do you know what hurts your brain? Googling yourself. You know what hurts your brain? Instagram.
"You know what hurts your brain? Sitting there and reading the comments on Facebook.
"I have a 14-year-old sister and I go through her comments and people are calling her a slut and that's a 14-year-old. So I think that's hurting your brain," she said.
The 21-year-old singer, who will bring her Bangerz tour to New Zealand next month, also opened up about her emotions for her former fiance, Australian actor Liam Hemsworth.
'I love Liam, Liam loves me', she stated.
Talking about her single Wrecking Ball, which is rumoured to have been inspired by the couple's relationship, the Nashville-born beauty said, 'it's about finding yourself.
'I had to set myself free.'

The couple met while filming The Last Song in 2010 and started dating shortly after.
Liam proposed to Miley in 2012, but in 2013 they announced they were separating.
Billy Ray Cyrus's daughter also used the interview to air her feelings on feminism, the criticisms she faces for her risque onstage antics, and her philosophy on life.
The twerking queen, whose sexualised MTV Video Music Awards performance with Robin Thicke sent shock waves across the world, spoke about her less-is-more approach to fashion.
'That's just what I like to wear,' said the former Hannah Montana star.
'I never think about what someone is going to think. I've always been into fashion.
'I grew up around Dolly Parton who is all... tits.
In the interview, Cyrus urged women to 'just be yourself', saying that she views herself as being a 'strong female figure'.
She went on to joke that Elvis Presley was the original twerker.
'Elvis, he wasn't wearing the outfits I was wearing but he was coming out and he was doing like the OG twerking. Like, no one wants to admit that he was twerking, he was,' Cyrus said.
'He was like sex. He was a symbol of sex but no one would have ever called Elvis a s*** because he wasn't a girl.
'It's that double standard and I think I'm doing something for the double standard.'
- Daily Mail