Edgy, claustrophobic atmosphere and taut performances ensure Menotti opera delivers seven decades on.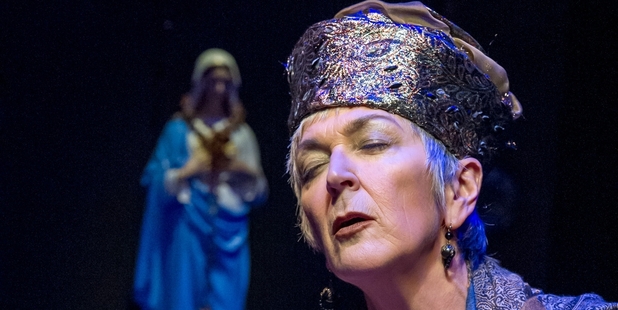 The music theatre of Gian Carlo Menotti fits in well with the strengths of Auckland's Opera Factory, as its new production of The Medium revealed.
Back in 1947, American critic Virgil Thomson commented on how this work "wrings every heart-string, and so does the music".
Seven decades on, in a small theatre just off Newmarket's Broadway, heart-strings were wrung yet again.
There are strong melodramatic elements in this 50-minute piece, although its composer saw it as the tragedy of a woman caught between a world of reality, which she cannot comprehend, and one of the supernatural, which she cannot believe.
Deeper concerns certainly came across under the direction of Raymond Hawthorne who built up an edgy sense of claustrophobia in the small parlour shared by Madame Flora, her family and a trio of clients.
Hawthorne gave us vivid and believable characters, the sympathetic lighting of Andrew Potvin playing its part in focusing relationships.
Emma Sloman, as Flora's daughter, was charming in her celebrated Waltz Song and touching in her dealings with Daniel Tizzard-Close's Toby, a mute boy whose sufferings are symbolic of the ostracised social outsider.
The seances were chillingly effective. Catherine Reaburn, Mark Covich and Helene Holman presented grief with admirable composure; Reaburn's account of her daughter's drowning was a memorable cameo.
A superb Helen Medlyn made the very most of Madame Flora, one of the great mezzo roles of the last century.
Medlyn, well known for her formidable range as a singer, delivered recitative in laconic asides.
She would duet briefly with Sloman in the opera's big number, Black Swan, and her frenzied attack on the hapless Toby was done with shocking Medea-like fury.
Yet, after all this, she beautifully underplayed her soul-baring Afraid! Am I afraid?.
Finally, some of the credit for Menotti's score wringing heart-strings must go to pianist Grace Francis who invoked the full power of Menotti's noirish orchestrations and, in more intimate moments, played with the discretion and poetry of a seasoned lieder accompanist.
What: The Medium
Where: Opera Factory
When: Friday