Stephen Jewell heads back to Scotland for round two of the New Zealand contingent performing at festivals around the city.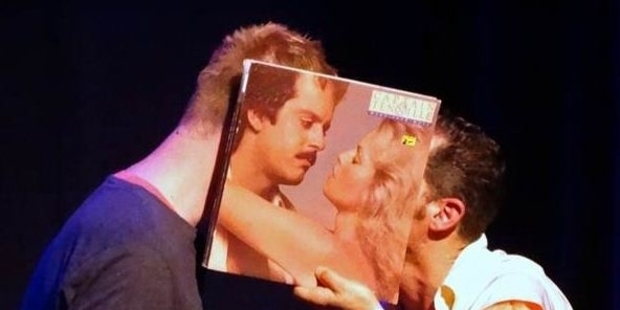 "Hey, it's Juan Vesuvius!" I am heading out of Edinburgh's Assembly Roxy with New Zealand comedian Barnie Duncan at midnight. There's no better indication that his one-man show, Calypso Nights, has become the talk of the town than when some students call out after his comedic alter ego and ask for selfies.
After gaining impressive reviews from The Guardian and The Scotsman, the hilarious show about a feckless Venezuelan DJ was included in The List magazine's top 10 best-rated shows and last week won entertainment website The Skinny's Fringe Genius award.
"I thought it would do well because it's a party, so I asked for a late night slot," says Duncan. "It really isn't comparable to anything else. Juan is such a good character, and he's so colourful and flamboyant, I knew there would be a point of difference."
With the last fortnight of performances selling out, Calypso Nights has fared much better than the New Zealand play, Strange Resting Places, the mid-afternoon three-hander that officially brought him to Scotland.
Centring on the meeting of two members of the Maori Battalion during World War II, with the Italian soldier played by Duncan, it has struggled to find an audience.
"I'm not interested in making works that are specific to New Zealand so I didn't want to create a character that traded off that whole 'New Zealand in Edinburgh' thing," says Duncan. "With Strange Resting Places, I'm in a show that handles Maori history and culture very well, so I don't need to do that again. I also tour outside New Zealand quite a lot and I like doing stuff for people who don't know who I am because then you get a more honest response.
"With Calypso Nights, it changes every night as I try out new things, and I'm always asking, 'Do you like this?' I'm grasping for ideas and, if something it isn't working, I can figure out how to fix it. That's the great thing about Edinburgh because you get to do around a month's worth of shows so, by the end, it should be a match-fit beauty."
Just down the hill at the Caves, Hayley Sproull has been enjoying similar acclaim with Miss Fletcher Sings The Blues.
The Wellingtonian's riotous show about a hapless, increasingly demented music teacher has been compared to Flight of the Conchords, who appeared at the very same venue in 2003 when they were first nominated for the influential Perrier Comedy Award.
"I'm such a big fan so, before I left New Zealand, I read all about their early experiences in Edinburgh," says Sproull.
"People say Flight of the Conchords went to Edinburgh and became very successful but they tried three times before they really started getting great audiences. They have talked about playing to about four people in a dungeon that was dripping water on them. So every now and again, I think about that and how they also had to start at the bottom."
Supporting Lawrence Arabia at the second of the two British Council-sponsored New Zealand music showcases in Scotland was slightly surreal, according to Chills front man Martin Philipps.
"It's not like a Fellini movie despite what first impressions might seem like," he laughs. "But when we played in Glasgow recently that was even stranger because it was part of the Commonwealth Games - it was a showcase for the Scottish athletes. But, at the end of the day, there are hardcore Chills fans out there and that's who I aim my stuff at, so it doesn't matter however weird the scenario is."
"I can't really gauge how it went but the audience was nice, although the set-up was stressful," adds James Milne, aka Lawrence Arabia. "We turned up and there was still another show on, which doesn't normally happen with a gig as there's not usually a theatre production on before a rock band, 20 minutes before the first act is meant to go on stage, or indeed afterwards. It was chaos! Everyone is like, 'Welcome to the Fringe!' but I'm like, 'I'm just going to play a gig'."
In contrast to Calypso Nights and Miss Fletcher, there were precious few laughs at I AM, the latest production from Samoan choreographer Lemi Ponifasio's theatre and dance company, MAU. The sole New Zealand entry in the prestigious International Festival programme, it arrived at the Edinburgh Playhouse fresh from its debut at France's Avignon Festival.
"I like Edinburgh and I work well with the artistic director," says Ponifasio, referring to Sir Jonathan Mills.
"It's the biggest arts festival in the English-speaking world, so it's good to be a part of that and to be at that table, talking to all the gods who are deciding who we are and where we're going. It's good to have access to that commentary."
Intended to coincide with the centenary of the start of World War I, the often arduous production has drawn a mixed response from critics, with The Times describing it as "visually epic, sophorically paced and resonant with implied meanings that are rarely, if at all, easily yielded up to us".
Audiences also found it hard-going, with many walking out during the more disturbing moments, although Ponifasio remains unruffled.
"That's nothing; it's normal," he says. "We have to make theatre for those who love it and those who do not love it. That's important, as theatre is not like chewing gum that we have to sugar for people to love it. The big mistake of artists is the need to be loved; we need to be truthful. It's not about 'uncompromising', it's about the truth you bring in that moment. That's what I can do and, with people, sometimes the work becomes too strong for them or they're not interested in that conversation, so they leave."
Reading from his forthcoming memoir Maori Boy, Witi Ihimaera received a warm reception for his panels at the Edinburgh Book Festival. After discussing the relative merits of cinematic and television adaptations alongside Wallander scriptwriters Cilla and Rolf Borjlind, Ihimaera participated in an entertaining debate about the ongoing relevance of the Commonwealth with Indian writer, Rana Dasgupta.
"It's interesting being in Scotland because you can make comparisons between what we do in arts and culture and what they do," says Ihimaera.
"I was shocked to find that Scottish funding comes from Westminster, and that it's only about 2 million (NZ$3.96 million) per annum. Considering that, our New Zealand film industry is funded much better and we're in a much better position. I've also been very interested in the referendum [for independence] because Scotland is ... controlled, operated and administered from London. So it's been fascinating to hear local authors with their opinions of the whole Scottish question."
Of Scottish descent himself, Ihimaera has found himself very much at home.
"I'm a Maori Scot, so I make sure everyone knows that whenever I do a session. At the time of the Highland Clearances, there were a number of Scots who came to New Zealand and one of those became a very important part of my family history. Edinburgh is also a major literary city so the first thing I did when I got here was to wander around the streets and find those kind of sacred sites such as the birthplaces of authors like Robert Louis Stevenson and Walter Scott. The Edinburgh Book Festival has got a really huge programme and to be here at the same time as the Commonwealth Games, the referendum and the other festivals is very exciting."


Stephen Jewell attended the Edinburgh Festival with assistance from Creative New Zealand.