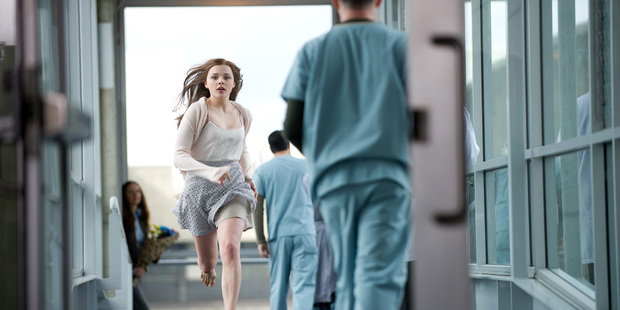 The latest bestselling young adult novel adapted for the big screen is Gayle Forman's supernatural story If I Stay.
A story of teenage love and family tragedy, the film is faithful to the structure of the novel, but a little of the magic has been lost in transition. As much melodrama as drama and with a plodding pace, If I Stay deals with weighty issues without quite making it matter until a tearjerker ending.
Read more: Chloe Grace Moretz: Should I stay or should I go
The very capable and versatile Chloe Grace Moretz is Mia Hall, a gorgeous, talented cellist and high-school student with a rock star boyfriend and the world at her feet. When Mia and her family are involved in a devastating car crash on a snowy Portland road, Mia goes into a coma and is caught between life and death.
As she has an out-of-body experience watching herself and her family being treated at the hospital, she takes us through the past 18 months of her life as she decides whether to stay or go.
I'm not giving anything away when I mention the "ghost" twist -- it's clear from the moment we see an unmarked Mia that she's observing herself from afar. Family and her music play a large part in her decision, but her flashbacks focus mostly on her relationship with Adam (Jamie Blackley).

App users: Tap here to view the trailer for If I Stay.
Moretz and Blackley have a lovely chemistry as opposites who bring out the best in each other. Teenagers will appreciate first love being taken seriously, even if it's a little unimaginative. I never thought I'd say it, but a vampire or werewolf would have livened things up somewhat.
If I Stay is documentary film-maker R.J. Cutler's (The September Issue) debut feature-length drama and he presents a well cast and pretty film. However, unlike the humorous and honest The Fault in Our Stars, which also deals with teenagers facing life and death, this venture feels slightly contrived.
Cast:
Chloe Grace Moretz, Jamie Blackley and Stacy Keach
Director:
R.J. Cutler
Running Time:
106 mins
Rating:
M
Verdict:
A sweet, but lacklustre teen romance
- TimeOut