They make one heck of a racket, but the UK's hottest new guitar act Royal Blood consists of just two people. Chris Schulz asks front man Mike Kerr how they do it.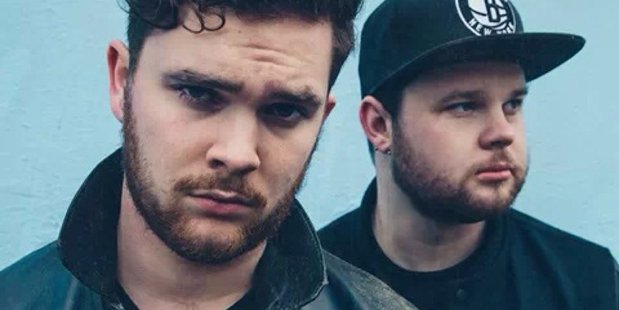 Excuse us for sounding a little like NME at the moment, but Royal Blood are worth getting excited about.
The UK twosome have released the year's most exciting rock record, a self-titled debut full of guitar-fired blues-rock rebellion and Led Zeppelin-inspired riffage.
They make a heck of a lot of noise - so much you expect to see a full band behind it.
But, like The White Stripes and The Kills, Royal Blood are a twosome: Brighton buddies front man Mike Kerr and drummer Ben Thatcher.
We asked them how they make such a racket.
nzherald.co.nz: Your debut album has just been released. Was there pressure on you to deliver after all the hype built around the band?
Mike Kerr: It's been a lot of hard work, so it's exciting to finally release it. Any pressure to be felt now isn't really real because it's done now and it's too late. No pressure on this side of the camp.
What is it about your sound that fans are connecting with?
I'm not too sure really. We make things that we think sound good, and lots of people have shared that enjoyment with us. I'm not too sure why.
Does it feel like things have happened fast for you guys?
Yeah, very fast. It's only really been a year and a half. Can it go much faster? It's just been something that's been growing over time. I wouldn't say it's been gradual, there hasn't been one event, it's something that's been expanding rapidly. There's not much time to sit around and think about how you feel about it. It's pretty full on and it's pretty busy. You just do it.
How did you and Ben meet? Was there an instant connection?
We met at a gig. Both our bands were playing at the same show. We just met there. I think I was about 15, Ben was 17, we just made friends and started playing in bands together. We've done that ever since really. There are lots of people I grew up playing music with, Ben was just one of them. But there's always been chemistry there, otherwise we wouldn't have been in bands so long.
When did you decide to become Royal Blood?
We never really sat down and thought about anything. We just started a new band, and voila, we had Royal Blood. It never really got bigger than the two of us.
You've never thought about adding another member to the line-up?
That sounds like too much to me. We just keep it simple.
Where did you make the album?
The majority of it was made at Rockfeld studio in Wales, which is a very famous studio, mostly famous for Bohemian Rhapsody. It's got a great desk, some great rooms, it's a very relaxed environment, it just seemed like the best option really. We made it over a period of a year and a half in small increments really, we never did it one go. We write together in the same room, but I do the lyrics, we just collaborate our ideas.
Matt Bellamy's a fan. How did it feel to have him approach you like a fanboy?
It was very irritating. Can you imagine? For him to come over and pester me while I'm enjoying my drink ... We just talked about music really, I can't remember - I'd had quite a lot to drink. The same kind of conversation you'd have with anyone else who plays guitar.
How do you make so much noise? There's only two of you...
I went to Hogwarts when I was younger, and I'm sworn to secrecy about any wizardry ...
Read more: Full review of Royal Blood's debut album.
- nzherald.co.nz