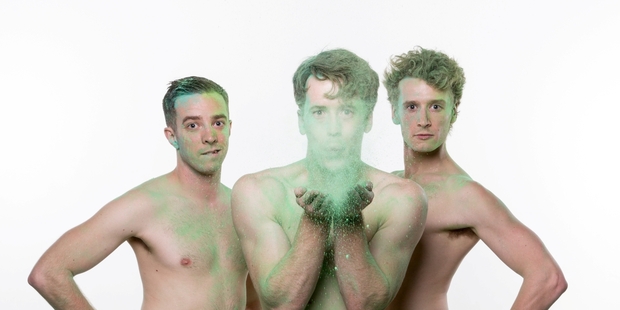 The party fun starts even before you enter the theatre for this Importance of Being Earnest, fabulously reimagined as an all-male dandy revel. Magnificent creature Stephen Butterworth - resplendent in feathered turban, frilly knickers and beard - welcomes all-comers with a flick of green fingernails, a flash of diamanted nipples and a flutter of glittered eyelashes.
Inside, live music, haze and a string of green lights create an appealing speakeasy feel, while men in their shirtsleeves dance slowly in couples (the programme says we're in a 1950s gay gentlemen's club).
The design team - John Parker, Elizabeth Whiting and Gayle Jackson - have created immediate, effective style by keeping to green with highlights of deep pink. On the bare stage, Rachel Marlow's clever, varied lighting changes create visual interest.
Once the frolic gets going, Oscar Wilde's wonderfully self-delighted aphorisms sparkle with suitably merry exuberance. We're immediately on the side of irrepressible Algie (an assured Jordan Mooney) and the "girls" as they jolly Jack out of his responsible stick-in-the-mudness.
Why be serious? These young things see absolutely no point in such boring absurdity.
Benjamin Henson's creative direction always takes its cue from the script yet holds marvellous surprises - fisticuffs and tango - even if you know your Wilde inside and out. The ensemble, lurking in corners at all times, becomes a happy Greek chorus.
Possibly the most radical thing about the production is the all-girl band (save musical director Robin Kelly on piano). This is far rarer than seeing only men on stage, and the choice makes a brilliant point.
The cast's singing, it must be said, is not strong, yet there's rather a lot of it (theme: Cher through the ages). A number could be cut from both the end and beginning without loss.
But everyone's comedy is impeccable and their speaking diction and delivery is crystal clear; Butterworth's Lady Bracknell enunciation of "country" is so precise it's very rude. Eli Matthewson pouts magically as Cecily.
Great value at $30 (plus booking fees). Gin-fizz effervescence.
Where: Q Theatre, to September 6
Reviewer: Janet McAllister