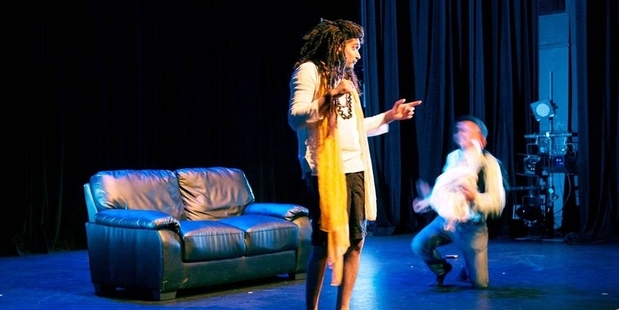 This week, 10 light-hearted "slice of life" plays start the month-long Short+Sweet suite of theatre, song and dance. Next week sees another round of 10-minute plays before the dancers and musicals get a week each.
The now-experienced producers seem very at ease with the short format, presenting satisfying conversations rather than mere skits or overbearing melodrama. At least half of this week's plays were written locally, and the standard overall is high. It's particularly enjoyable to see Auckland situations on stage.
In Here and There, Mina tells her parents in India via Skype that she's engaged to a Maori man. The piece is well-structured and humorous, yet subtly knowing about family dynamics - Boni Te Rongopai Tukiwaho steals his scenes as an Indian (!) uncle. There's potential for a full-length comedy here; they left us wanting more.
Luke Thornborough's The Delivery offers amusing examples of unfair argument tactics before its left-field ending. The multi-talented Aman Bajaj wrote, directed and stars in Dhoti Baba, which tells the hilarious tale of a Roskill-raised Indian guy inspired by Eat, Pray, Love to go to India.
It ends in a hip-hop dance, Bollywood-style. (As a Mt Roskill Grammar alumna I have to point out, however, that "Mt Roskill High School" does not exist.)
Renee Boyer-Willisson's Encounter tells of a mildly amusing bus stop fracas, and Thomas Sainsbury directs Lana Walters and John Bartlett to the right level of comic awkwardness between flatmates in Walters' own, well-written OK Cupid.
Nicole Steven uses voice, horror make-up and long nails to excellent effect in The Mother while elsewhere Dawn Glover does a great job as an uninsured mobile-home owner, and the contortions of Natalie Crane's possessed pubescent are impressive.
The only experimental piece is a repetitive lesson in how direction and acting can change the meaning of a few lines, directed by Renee Sheridan. The shift in anger from one sibling to another is particularly effective. Still only $25, after all these years.
Theatre review
What: Short+Sweet Theatre (Week 1)
Where and when: Tapac, Motions Rd, Western Springs, to August 30
Reviewer: Janet McAllister