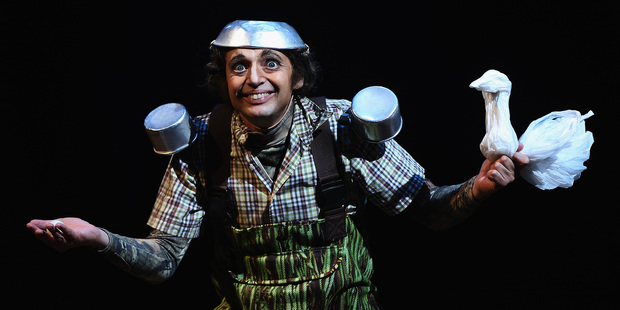 As an instantly recognizable brand celebrating their 30th anniversary, Cirque du Soliel must stretch a tightrope between making it new and delivering on the expectations of its loyal customers. Totem strikes the perfect balance with a dazzling display of cutting edge technology blending into the timeless mystique of the circus.
The exuberant mash-up of global cultures sees the foundational myths of indigenous peoples scrambled together with an evolutionary genealogy that begins with a celestially animated turtle and culminates in cell-phone-man.
The wildly anarchic taxonomy flits from primordial amphibians to inquisitive scientist and gravity defying acrobats with a pair of brashly intrusive clowns puncturing any tendency toward pomposity. The traditional feats of strength, subtlety and daring supply a lavish serving of the wow factor.

The show is written and directed by Robert Lepage who thrilled audiences at the 2009 Auckland Arts Festival with a riot of wildly inventive theatrical images. His visual finesse is evident throughout the show with stunning choreography of routines that make an elegant ascent in degrees of difficulty while managing a beautifully crafted integration of props, lighting and costumes.
Early highlights include the startling precision of a troupe of synchronised unicyclists, in bejewelled body stockings who casually toss bowls from head to foot with pinpoint accuracy and an astonishing pair of foot jugglers who had spinning discs orbiting like celestial bodies around their shapely sequinned legs.
For sheer visual panache it would be hard to go past a scientifically themed routine that featured an exuberant chimp in a lab coat with assistants who turn a set of test tubes into pan pipes while a Charles Darwin figure has fluorescent balls bouncing like electrons within a conical glass flask.
The acrobatics often had an erotic edge with a sensuous seduction on the high trapeze and a sizzlingly sexy roller-skate duet with a Native American theme.
Comic highlights include an evolutionary sequence that saw primates and a heavy metal Neanderthal mischievously stripping a modern business man of his technological trinkets and a hip-hop dance battle that takes flight and becomes a sexy areal ballet soaring over the audience in the wonderfully intimate seating of the Big Top.
The show stopping finale creates an ethereal lunar space-walk theme for a breath taking display of areal tumbling with incredibly skilled acrobats taking flight from hand held bouncing boards.