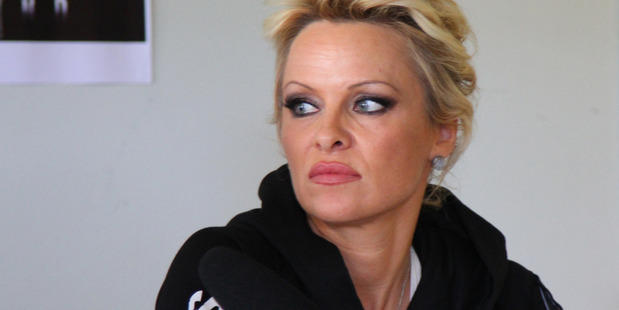 It is the latest internet craze that has seen dozens of celebrities and sports stars have freezing cold water poured over themselves for charity.
But Pamela Anderson has refused to take part in the Ice Bucket Challenge - in aid of the ALS Association, which helps sufferers of motor neurone disease (MND) - on ethical grounds.
The former Baywatch star, 47, claimed on her Facebook page that she could not take part because experiments into treatments for MND have involved cruel animal testing.
Instead she posted a picture of herself in a skimpy top holding a handwritten sign saying 'Stop animal testing'.
But while some applauded her stance, others were quick to label her a hypocrite - because she based her career on the visual appeal of her silicone breast implants.
They pointed out that the implants were developed through testing on animals to see whether silicone was safe.
Anderson wrote on Facebook:
The posting attracted hundreds of comments, with several pointing out that the silicone in her breasts and injections in her face would have first been tested on animals.
While several comments were rather foul-mouthed, others were more considered and dubbed her "morally vapid".
The Ice Bucket Challenge craze took off in July and by the end of the month the ALS Association reported a dramatic rise in donations - $31.5 million compared with $1.9 million in the same period last year.
The ALS Association works towards eliminating neurodegenerative disease, also known as amyotrophic lateral sclerosis.
ALS damages the brain and spinal chord resulting in progressive paralysis.
Nominees can either accept the challenge and donate, or reject the offer and donate a larger amount, although many celebrities have proved good sports and opted to both take on the challenge and also donate generously.
The ALS Ice Bucket Challenge also proved to be the impetus for Anne Hathaway to finally bite the bullet and join Instagram.
On Thursday, the 31-year-old Les Miserables actress posted her very first two videos to the social networking site, dressed in a white tank and not wearing a single trace of makeup.
She was nominated by Valentino Fashion House's Giancarlo Giammetti, and in turn called on Kristen Stewart, Matthew McConaughey, Jessica Chastain and Joan Rivers to follow in her footsteps.
Anne poured a large bowl of water over her head as she stood in a tiled bathroom and immediately erupted into laughter, squealing at the cold.
Mark Wahlberg took on the challenge on Wednesday along with his wife Rhea Durham and their three eldest children Ella, Michael and Brendan.
The family banded together and collectively dumped iced water on their heads for the cause.
Jessica Biel didn't let the challenge go by without taking part either, throwing water on her head along with her mother and grandmother.
The 32-year-old actress - who is married to Justin Timberlake - posted the evidence to Instagram after she was nominated by her friend Zosia Mamet.
Gwyneth Paltrow also came out of the woodwork amid claims that her estranged husband Chris Martin is dating Hunger Games star Jennifer Lawrence, uploading her own Ice Bucket Challenge video.
The 41-year-old actress stripped down to a black bikini and in fact nominated the Coldplay frontman.
She told the camera: "Hi, I'm going to alsa.org to donate money for ALS but in the meantime I'll do this and nominate Chris Martin, Cameron Diaz and Stella McCartney."
Nashville star Hayden Panettiere used the challenge as an opportunity to confirm her pregnancy to the world as Dancing With The Stars favourite Derek Hough threw water over her head.
"I accept my ALS Challenge," the 24-year-old told the camera. "I renominate Kacey Musgraves - you're not getting out of this, Wladimir Klitschko [her fiance], and my unborn child."
- Daily Mail