Looking for some light relief from the election campaign? NZ On Screen Content Director Irene Gardiner checks out some of our politicians from before they were famous.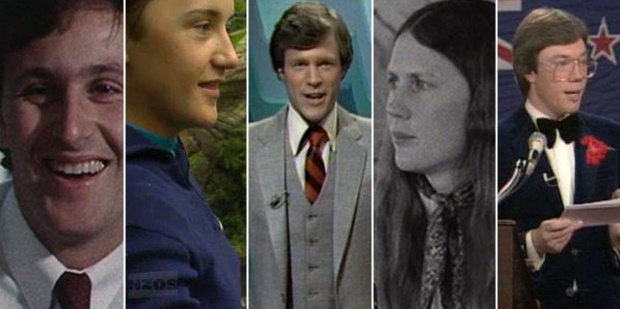 With a general election looming, some MPs may be thinking about a life after politics, but what about their lives beforehand? Some of our best known politicians were captured on camera in some other walk of life long before they made it onto the political stage.
Prime Minister John Key was filmed for the 1980s current affairs series Close Up (not the more recent show of the same name) back in 1987, when he was a 25-year-old foreign exchange dealer. Elders trading room manager Chris Wright says of the young trader: "John has an uncanny ability to know when to hold positions and when to cut positions. He seems to have a sixth sense about where the market is about to move to."
You can watch the full item here:

John Key's predecessor as Prime Minister was Helen Clark, whose political interest began at an early age. In 1974 she was filmed for a current affairs show called Nationwide, speaking at a Labour Party Youth Conference. With long flowing locks, rather that the short hair of her PM days, Clark is a junior politics lecturer making her way in the party machine as she chairs a session about abortion law reform.
You can see her in action here:

Some of our younger politicians have grown up in the reality TV generation, and one who got caught on camera in that television genre was Auckland Central MP Nikki Kaye.
This early TV3 reality show, Fish Out of Water, saw six Kiwi teenagers marooned for eight days on Rakitu Island to fend for themselves. The three girls and three boys facing the Lord of the Flies type challenge included Kaye, who defied the producers' pigeonhole as "the private school girl who couldn't survive without a hairdryer" by taking the leader's role and clubbing an eel.
Watch Nikki Kaye in Fish Out of Water here:
Of course we also have some politicians who have come to politics from a career in broadcasting, so they have no chance of their on camera past not being known. Long-time MP and former Speaker of the House Lockwood Smith first came to national prominence as the host of TV quiz shows for high school students.
Here he is hosting the W Three Show national final in 1980:

And former Christchurch mayor Bob Parker had a long and varied TV hosting career with TVNZ, before he moved into local body politics.
Here he is in 1981, hosting the Young Farmer of the Year competition live from Trillos nightclub in Auckland:

To see a more comprehensive selection of "Before they were Politicians" TV moments, check out the full collection on NZ On Screen.