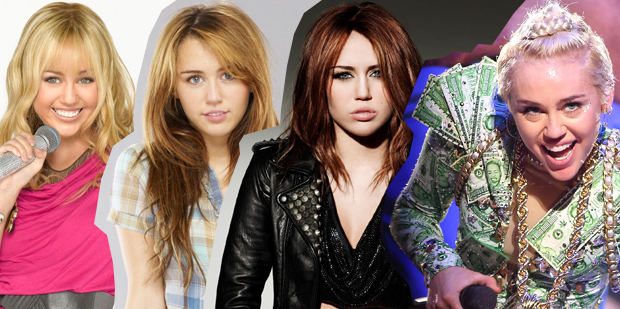 Gone are the days of the young sweet Hannah Montana. Miley Cyrus' metamorphosis through her teenage years has transformed her into a, um, 'colourful' butterfly.
In 2006 Cyrus started out her career having The Best Of Both Words on Disney's Hannah Montana, but it wasn't long till the starlet wanted to Start All Over (2007) and be introduced to the world as herself and not be known as just a TV show character.
Read more:
• NZ-bound Miley defends concert raunch
• A close encounter with Miley Cyrus
• Miley live: What to expect from her Auckland show
Tracks became more personal with 7 Things (2008), which is supposedly about ex-flame and Disney cohort Nick Jonas. 2010's The Climb showed a jump in maturity and gave a nod to her country roots.
Party In The USA kicked things up a notch for Cyrus, but it was her then-controversial music video for Can't Be Tamed that marked a big step away from her squeaky clean Disney image.
But it's the songs from her latest album Bangerz (2013) that have really shocked the world.
We Can't Stop introduced us to a very different Miley, and with her controversial Bangerz tour heading to New Zealand in October it doesn't look like she she will be stopping any time soon.
Today's playlist was curated by entertainment writer Rachel Bache.
Enjoy the YouTube playlist below, a double whammy of songs and videos.
Warning: Songs may contain explicit content.

App users: Tap here to view this week's Friday Playlist.
- nzherald.co.nz