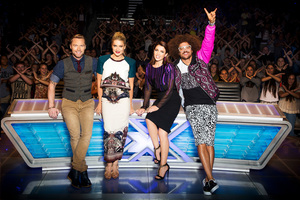 As Kiwi X Factor hopefuls prepare for auditions, audiences in Australia are tuning out of the former ratings-winner.
Both The X Factor and The Voice are in a ratings free fall across the ditch, the former down more than 300,000 viewers an episode on its 2013 figures.
To highlight the show's plight, not once has it finished on top of the overnight ratings, whereas in 2013 The X Factor's first six episodes averaged 1.507 million viewers and it was No.1 each night.
For the same period this year, The X Factor had an average audience of 1.166 million and on the second night the viewer numbers dipped to an embarrassing 970,000 to make the show eighth overall.
Even though The X Factor is in the live finals stage, its viewing numbers are heading south.
The first four live finals have averaged 1.094 million viewers, less than the opening six episodes and more than 300,000 fewer viewers than for the same period last year.
But The X Factor is not alone when it comes to viewers switching off.
There were signs in mid-June that audiences were tiring of "amateurs" warbling the same cover songs over and over again.
The Voice launched in May with 2.155 million viewers, which by mid-June dipped to 1.3 million.
A few weeks later, the series bottomed out when 1.247 million watched the preliminary final, which was also the smallest audience in three seasons.
The following week the crowning of Anja Nissen, at the tail end of a marathon 150-minute show, was watched by 1.578 million.
A far cry from the three million who tuned in to see Karise Eden win the first season of The Voice in 2012 and the 2.3 million people who saw Harrison Craig win in 2013.
It's a trend likely to concern TV3, which will begin broadcasting the second series of The X Factor New Zealand next year, after receiving $800,000 taxpayer funding through New Zealand on Air.
But if New Zealand audiences follow Australia's lead, there's good news ahead for TVNZ's new cooking show My Kitchen Rules, which premieres on Sunday night.
In Australia, cooking series MasterChef, which was being whipped in the ratings by The Voice, ended up with last laugh.
A week after The Voice ended, 1.703 million watched the MasterChef's winner announcement.
-AAP