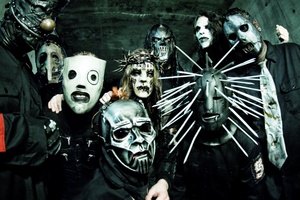 Australia's Soundwave festival has revealed a stellar line-up for 2015 including Faith No More, Soundgarden and Slipknot.
Other big names joining these rock gods for the two-day festival are Marilyn Manson, Slash and Fall Out Boy.
Faith No More only just returned to touring in 2009, after a 10-year break, with their Reunion Tour.
However, the band appear to be planning something different for their Soundwave slot.
"The Reunion Tour is over; in 2015 things are going to change," the band tweeted after the Soundwave line-up was revealed.
The festival has recently moved from a one-day event to two days, which has allowed for more bands to be added to the line-up.
New Zealand often gets sideshows from the Soundwave line-up, with Korn, Rob Zombie and Eagles of Death Metal included on the Westfest line-up for Auckland.
Earlier this month, fans were drip-fed the names of five bands who have never toured Australia before, and would play Soundwave.
The first band to be revealed was Japanese metalcore band Coldrain.
The festival's promoter AJ Maddah, said on Twitter the idea was to "Put the spotlight on 5 new bands people may not have heard of before!"
Maddah was also the promoter of Big Day Out but sold his half of the organisation to American company C3. The company revealed earlier this year that the seminal Aussie festival wouldn't be going ahead in 2015.
At the time, Maddah blamed the cancellation of the festival on a lack of headline acts.
"For a lot of bands it's about cycles: they put out an album, they tour ... take time off and come back ... and we have what we would call a fallow year for headliners," he told triple J.
But there may also have been a financial reason for the cancellation as he revealed he lost $5.5 million.
"The losses from [this year's] Big Day Out were a lot higher than I expected," he said.