Rival teams get stuck in ... and some of the neighbours are also busy making complaints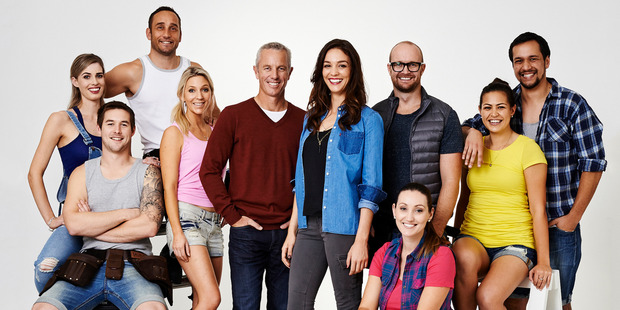 Contestants on the new series of The Block NZ are getting more filthy, frustrated and exhausted than ever before - and they've done only one room.
The show, which pits four teams of two against each other in a race to rebuild, renovate and landscape four houses, room by room, in Pt Chevalier, will start next Tuesday on TV3 and air four days a week.
The Herald yesterday went to the Newell St property, which swarmed with builders, film crews and eight live-in contestants, all negotiating a two-storey obstacle course of mud, scoria, cables and concrete.
Contestants Jo and Damo of Feilding said living and working from the four skeletal houses, which until yesterday had not been waterproofed, was harder than they'd imagined.
"Having no comforts of home, no bathroom or anywhere to wash our clothes you get pretty dirty," Damo said.
And while the competition was heating up on set, tension was building among neighbours in the Pt Chevalier cul-de-sac as well.
The show, which is about to begin its third season, drew submissions to the Auckland Council and threats of legal action from some when it moved into the family-oriented area.
But roof painter Neil McGregor, who has lived on the street for about 15 years, said he wasn't worried about his new neighbours, though he was starting to get a bit embarrassed about his old ones.
The noise and traffic created by the project had little effect on him, and sight-seers were "just the way it is", he said.
The Block's creators had gone out of their way to reduce the show's impact on the street, he said, so tradesmen had to park on Pt Chevalier Rd and walk to the house with their tools.
But not everyone was as relaxed about the show as Mr McGregor.
He said one person put a wheelie bin in the middle of their driveway every morning to stop cars from using it to turn around, and there were neighbours with whom conversation on the subject of the show was completely avoided.
For some residents he said parking was a major concern and he had seen a person taking photos of a work van that was delivering paint to his home.
In June, the council said it had received its first complaint about The Block hours after work started.
"A Vector contractor who had parked in the wrong place has moved, and another related to a plumber visiting a different address," a council official said.
Yesterday, a representative said further complaints had been made about the project, most of them related to traffic.
"The council has investigated every complaint. As a result we have taken formal action on three occasions, issuing two infringement notices and one abatement notice. All three are related to traffic management."
A mother of three on the street said apart from creating some extra traffic, The Block wasn't a bad neighbour.
She said communication was good and even her parents around the corner were kept informed by the show's organisers.
There were weekly community meetings about The Block, but she had not had time to go to any of them.
Find out more about the teams here.