Barney McDonald meets a rock star of the world of illusion.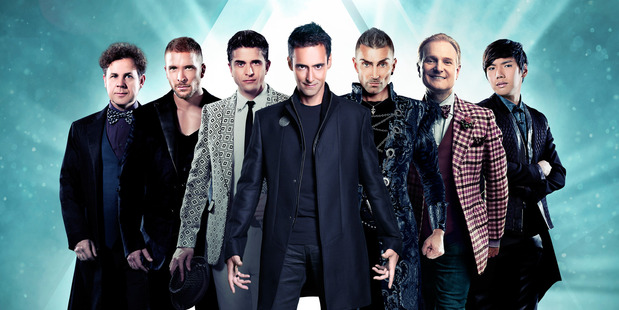 The Illusionists look like a line-up of Dr Whos and call themselves the Master Magician, the Warrior, the Manipulator, the Futurist, the Trickster and the Unusualist. But as far as sex appeal goes, London-based the Deceptionist could easily live up to another moniker: the Looker.
Twenty-six-year-old James More, pictured second from left, a semifinalist on last year's Britain's Got Talent, is magic's equal to David Beckham in the football world. He's buff, sharply dressed, has the moves and the chiselled good looks of an Armani model. It's no surprise he even has groupies.
"Yes I do, yes I do," he says, laughing. "In Mexico I had people waiting outside the hotel. It is kind of like a rock group, The Illusionists. We're kind of like the rock group of magic. It does have its perks. It's a good appeal, I think."
Not that he wants anything as superfluous as good looks to overshadow his craft as a grand illusionist, a career in the making since he was an 8-year-old obsessed with working out how tricks were done.
"Though I'm aware there's a bit of sex appeal there, I'd rather people would respect what I do rather than how I look," he says. "But whatever makes them happy."
What makes More happy is how his career has developed from winning a school talent contest with a shoebox trick to travelling the world performing on cruise ships for almost four years, then joining six other world class magicians as The Illusionists, a tour de force of mental and optical illusions on a grand scale.
"Three thousand magicians applied for the job and the producer and director watched thousands of videos before making a decision on the final seven," explains More.
"It's a privilege for us to be able to work with each other. We're all very happy to be in the show. We're like a little family because we spend so much time together.
"Usually the magic industry is quite cliquey and you think that people are trying to conceal their secrets. But everyone plays a different role in the show and we all understand that. So there's no real competition. We seem to get on very, very well."
More's specialty is elaborate illusions that seem to defy logic or safety. Two of his acts on Britain's Got Talent involved him being impaled on spikes or a sword, with a customary flash of fire for extra danger. Both performances left the audience and judges gasping. Even the indomitable Simon Cowell was impressed.
"That clip of me being impaled on a sword got 26 million hits on YouTube," says More.
"That, for me, is wonderful PR. That's why people have heard of me in places like Minsk. It gave me the opportunity to go there and sell out a 2500-seat theatre.
"You've got these talent shows all over the world but there's nothing that gets the reach of Britain's Got Talent, for some reason. Not even America's Got Talent gets that reach on YouTube. It's strange, but [it's] a wonderful machine that enables people like myself to do things I otherwise wouldn't be able to do."
Inspired, like so many others, by the genius of David Copperfield, More is adamant the way to get noticed as a magician or illusionist is to develop a unique identity and style.
"I think it's very important within our art to try not to emulate or copy," he says. "You can certainly be influenced or inspired by others, though. Obviously, I'm a massive David Copperfield fan. I think he's the greatest that has ever been.
"I've been to see his show but I've never met him, though I've met Penn and Teller. We aspire to be on that level because these people are the greatest performers in the world."
The Illusionists perform at The Civic from September 2-13.