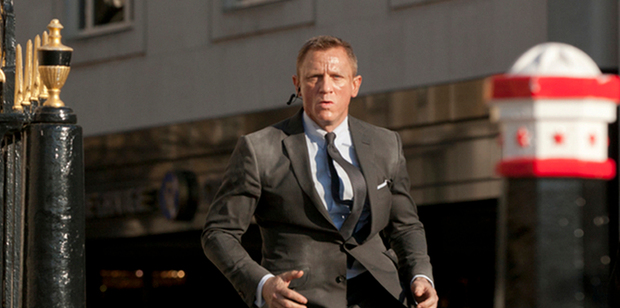 Several years ago Auckland singer Tim Beveridge was with a mate when the Sheena Easton power ballad For Your Eyes Only popped up on the playlist. It got them talking about the best songs from 50 years of James Bond films, and bringing them together into a concert. "The brand of James Bond has an exciting, escapist nature and there's an intimacy and theatricality to all the music," says Beveridge. "They're huge tunes, performed by iconic pop artists."
The idea has evolved into The Music is Bond, a collaboration with the Auckland Philharmonic Orchestra. Beveridge names his top five James Bond tunes.
It's Groovy (1962)
The James Bond theme. Beveridge says it's the piece of music that immediately conjures the over-the-top drama and glitz of Bond films - and it sounds incredible when the iconic guitar is backed by a 70-piece orchestra. "It's groovy, baby," he says. "It's groovy." It was composed for the first Bond film, Dr No (1962).
Nobody Does it Better (1977)
"It's a great, sensual 1970s pop ballad," says Beveridge. Originally performed by Carly Simon, with lyrics by Carole Bayer Sager, it's one of the few Bond songs that doesn't share a name with its film, The Spy Who Loved Me (1977).
Live and Let Die (1973)
Written by Paul and Linda McCartney, this song is an "extraordinary, iconic piece of music", says Beveridge. It was originally performed by the former Beatle with the band Wings, and memorably covered by Guns N' Roses in 1991.
Goldfinger (1964)
A "phenomenal" song, says Beveridge, especially coming from the thunderous throat of original singer Shirley Bassey. He reckons Goldfinger best fulfils the Bond song "template" created by original Bond composer John Barry. "It's immensely theatrical, with a wonderful, symphonic sound and it's evocative of the 60s."
Another Way to Die (2008)
This was once Beveridge's most hated Bond theme, but he flipped it on to his best list after hearing it performed live. He says the original, sung by Jack White and Alicia Keys for the film Quantum of Solace, is a sterile and "dry" recording. "When it's performed live, it comes to life. It's an exciting and unexpected piece."
The Music is Bond, Aotea Centre, Thursday night. Dress in theme to win prizes, including Qantas flights to Australia. See apo.co.nz