Clear your diary for the best Block yet says Ben Crawford.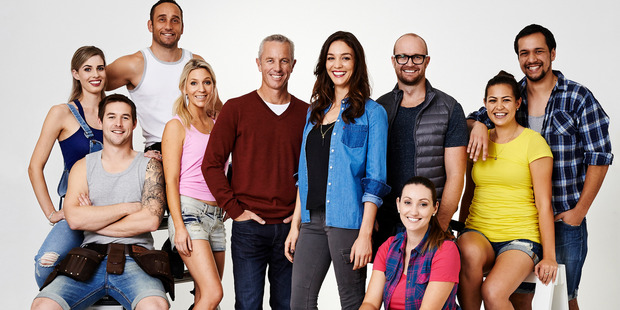 It's a bitterly cold morning as I make my way down a little street in Pt Chevalier. The sun has barely risen above the horizon and although my piping hot coffee is trying its best to warm me up, it's fighting a losing battle against the eye-wateringly brutal wind that cuts straight through my inadequately light jacket. It's a miserable winter's morning in anyone's book.
So who could possibly be excited about moving into a house in the depths of winter, especially when that house lacks walls, power, running water and a roof?
I can think of eight people jumping out of their skin at that very prospect and I'm heading to meet them. They're the four couples about to embark on an adventure of a lifetime as the new contestants on the third season of The Block NZ.
It's crazy to think it has already been two years since my sister Libby and I took part in the most stressful, satisfying and life-changing journey that was the inaugural series of The Block NZ. I've said I'd do it again in a heartbeat, but as I arrive at the inner-west site of the four new houses, I'm not so sure.
Wow. As cliched as it sounds, the challenge ahead is epic compared to last year and out of the stratosphere in comparison to the homes we had to renovate in 2012.
That's because the contestants will virtually be building new homes from the ground up. Framing is going up in every direction, I can't spot a solid wall anywhere and there's mud as far as the eye can see. Only small sections of the two original pre-war bungalows remain, creating an almost blank canvas to transform into four upmarket homes.
The four couples have only just arrived and are still getting to grips with the scale of the job ahead. They're full of enthusiasm but bubbling below the surface you can sense they are asking: "What the hell have we got ourselves into?" It's a feeling I know well, one that Libby and I got used to living with on a daily basis.
After reminiscing for a moment, I venture deep into the bowels of The Block site to chat to the new crop of budding renovators and to get the inside word from executive producer Greg Heathcote on what to expect this year. Let me tell you now: what I saw and heard means you're going to want to clear out your diary and series link the season on MySky because this looks set to be the best Block yet.
Meeting the teams
Armed with a few random questions such as: "If your house was a celebrity, who would it be and why?" and: "There's a red parrot, a blue parrot, a grey parrot and a white parrot, which would you choose?" I picked the contestants' brains in an attempt to predict what we might see from them.
Quinn and Ben
Watch out, there's a new Ben on The Block. The only mainlanders in the competition are also the DIY novices this year. With a combined renovation experience of nil, Quinn and Ben have a huge learning curve ahead of them. Armed with some cheeky one-liners, Quinn might very well be the trickster of the series, and she and Ben make an extremely fun, if slightly goofy, team.
For example, with a smirk a mile-wide, Quinn tells me their house will take on the traits of Ryan Gosling. It'll be good-looking, laid-back, not too posh and just a cool place to hang out.
Clearly the biggest hurdle for the Cantabrians will be the fact they are complete rookies, but they're eager to learn so don't count them out. They're made from tough stock down south and within a couple of weeks they'll be up to speed and a serious threat.
Jo and Damo
I'm picking that this recently married couple from Feilding will have us in stitches all series long. Policeman Damo is a hard-case bloke with larrikin tendencies and designer Jo freely admits they're constant bickerers.
It's a recipe for television gold.
As far as their renovation experience goes, it has been limited to older villa-style properties, so they're feeling slightly intimidated at the idea of creating a modern home for an inner-city buyer in the big smoke of Auckland.
However, they're starting in a solid place by drawing on an unlikely source of inspiration in All Black Andrew Hore.
As the couple explains, when he's away on tour with the All Blacks, Hore enjoys the luxurious trappings of a professional sportsman, yet when he gets home it's back to the farm and a more rustic lifestyle.
So keep an eye out for a lot of homely touches paired with industrial and lavish finishes in Jo and Damo's personality-packed house.
Alex and Corban
The Muriwai-based husband and wife team are the most experienced on The Block this year and a formidable partnership. Corban, a mechanical engineer, designed and built the couple's former home, and Alex is a fashion buyer, bringing a unique perspective on interior design.
I think we'll see the duo drawing a lot of inspiration from nature, selecting a suite of natural but functional materials. The fact they live at the beach is probably a giveaway, along with the fact their dream home would be a modern, cabin-style place beside a lake.
Alex gravitated towards the white parrot, whereas a more considered Corban picked the red one, so look out for a pure base palette with splashes of colour in all the right places.
I'm really excited to see how far these guys push the envelope, something the pair are both keen to do. I hope their tendency to be overly ambitious doesn't prove to be their downfall.
Maree and James
These South Auckland high-school sweethearts have been together for 13 years and recently bought their first home. James is a pretty laid-back character and Maree is highly competitive and prone to getting fiery and emotional. As The Block is such a pressure cooker environment, I'm picking we may witness some fireworks from these guys, despite their smiling exteriors.
Maree, a Beyonce fanatic, believes their house will be like the singer - confident, strong and comfortable. Coupled with their choice of the red parrot, I reckon we'll be seeing a family-focused, homely design from this lovely couple, with plenty of bold colours scattered throughout.
It may well prove to be a recipe for success as it sounds like just what potential buyers in the area will be looking for.
The only question left is James'. Are we likely to see The Block NZ's first ever proposal?
The Block NZ executive producer Greg Heathcote
This is the third season of The Block NZ, what's the biggest difference this year?
The houses are less intact when the teams begin compared to previous seasons. They're almost starting from scratch this year, meaning there's a lot more to deal with, while still faced with the same extreme time constraints.
Viewers are going to be treated to four episodes a week this year. Does that mean we'll be seeing the teams competing in more challenges?
No, there are exactly the same number of challenges but an extra episode means we can televise a lot more renovation progress each week, something we know viewers always want more of.
Speaking of challenges, Dinner Wars has been the most controversial challenge during the past two seasons; can we expect to see this year's teams cooking off against each other?
Oh yeah. Dinner Wars will be back and it always creates scandal.
This is a massive TV show, how many people are involved in creating it?
There are around 60 in total who work on the show. On average we'll shoot more than 20 hours of footage every day, so the biggest team is behind the scenes, doing all the editing and deciding what makes it into each episode.
How did you find this year's location?
I live locally and my neighbour told me about these properties. I came and had a look and the rest, as they say, is history.
It's a great location. How have local residents reacted to having The Block on their doorstep?
They've been great and the children in particular are so excited to see the houses come together on their very own street.
There are two new judges this year, magazine editor Shelley Ferguson and architect Mark Gascoigne. Do you have the inside word on what sort of judges they are?
Let's just say they know what they like and it's not going to be an easy ride for the teams this year.
From August 26, The Block NZ will screen Tuesday, Wednesday, Thursday
and Friday nights at 7.30pm on TV3.