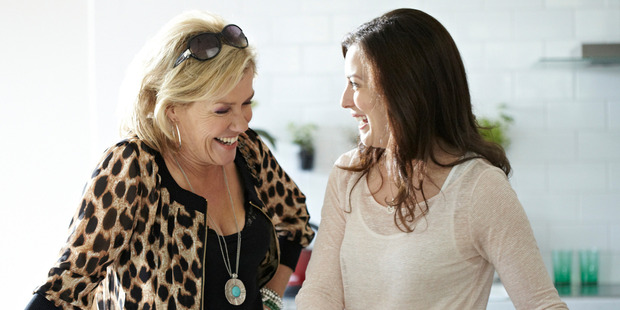 "It's not my fault. I get f***en reflux," says burping Amber, a foul-mouthed slapper of a character in Upper Middle Bogan (Thursdays, TV One, 8.30pm). Don't we all? Because here's Robyn Malcolm, as the tough as old rubber matriarch of an Australian family who are into drag racing, beer (stuffing limes in the rim means you're a bit posh), and family. If you are the creme de la Bailey's cream of Boganville, as they are, you live in a hideous concrete house posturing as a mansion somewhere in the unleafy Melbourne burbs.
In the inner, posher, older money burbs, there is Bess, a neurotic doctor, who does the occasional, not very genteel burp. "It's reflux."
Her very posh, pearl-wearing mother, disagrees. "It's disgusting."
It's funny too, if in the way that 5-year-olds find burping and bum jokes endlessly hilarious. But it is a bit like having reflux watching Malcolm play another bogan matriarch. Did she audition? Or just send the box set of Outrageous Fortune? Was she able to recycle her Cheryl costumes? Even if it doesn't seem much of a stretch for her (or for us), Upper Middle Bogan is so far a likeable enough comedy based on the clash of two cultures: The Bogans and the middle-classes.
The Bogans - mum Julie played by Malcolm and dad Wayne played by Glenn Robins (Kel Knight in Kath and Kim) - have been together since they were very young teenagers. They had a baby, which they gave up for adoption and who is now Bess, the doctor. They also have a grown up family, which includes the burper, and a grandson, and money troubles. They are in danger of losing their house, which is such an eyesore that might be a blessing. They are the Wheelers, which is a very bad joke indeed.
Wayne has a glass eye, which means he can't race cars any longer. Julie is a hot-shot racer and looks very fetching - if fluoro leathers are your thing - in her racing gear. Wayne's glass eye is not entirely a bad thing. At parties he can put it Julie's drink, which is only slightly less disgusting than reflux.
They have a very dim red-headed son. Bess and her husband have twins - a girl, who is a proper little madam, and a very dim red-headed son. Oskar is so so thick even his father concedes he's a few prawns short of a barbie (or he might have put it that way if he was a bogan).
There is an meddling, overbearing mother, who never told Bess she was adopted - this discovery was made after the mum keeled over from undiagnosed diabetes and it was discovered that her blood type and Bess's didn't match. She is the pearl-wearer and is shaping up to be the Dowager Countess of Upper Middle Bogan.
So far, it's slight fare, but it has a terrific cast, so it has promise. If we can get past the reflux that is watching our Westie Cheryl play an Australian bogan called Julie.
- TimeOut