Kimbra cites Disney and a Japanese magic realism film as big influences for her music.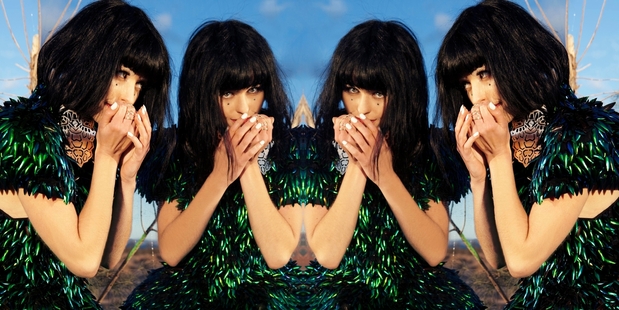 Kimbra says Disney films and animated children's movies inspired her upcoming album, The Golden Echo.
The progressive pop star revealed her first single from the album, 90s Music, in May with an accompanying bright and kooky video.
"I watch a lot of animation and a lot of Disney and children's films. I think there's a lot of imagination in them," the Aussie-based Kiwi said.
In her video, Kimbra is seen in bright '90s inspired fashions and uses '90s iconography, visually and in the song, alongside some animation.
Album review: Kimbra, The Golden Echo
She didn't say whether Disney's hugely successful film Frozen had been part of her viewing diet, but she mentioned a Japanese magical realism film from 1990 as an influence.
"I was really inspired by a movie by Akira Kurosawa called Dreams," she said. "When I saw that movie I just got thinking about the ideas of creating in a different universe, or a different dream in every song, and it sparked a lot of my visual ideas."
The movie is based on actual dreams from the film's director.
"When I saw that film, I was really, really inspired to write music."
Videos have a strong influence on the singer, who believes they can help market music and reach an audience.
"I get excited by mixed mediums, the idea of crossing over - interacting visuals and music - these are all ways that we can make music feel valuable again," she said.
The music video for Kimbra's hit with Australian singer Goyte, Somebody That I Used to Know, spawned many online spoofs, including The Star Wars That I Used To Know. The clip has been viewed more than 15 million times on YouTube.
The Golden Echo will be released tomorrow through Warner Music.
- AAP