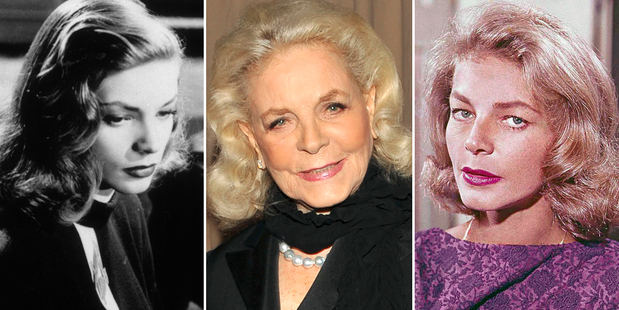 Legendary actress Lauren Bacall, an icon of Hollywood's golden age who lit up the silver screen in a series of classic movies opposite her husband Humphrey Bogart, has died aged 89, her family said.
The Bogart estate confirmed the sad news in a brief statement on Twitter:
With deep sorrow, yet with great gratitude for her amazing life, we confirm the passing of Lauren Bacall. pic.twitter.com/B8ZJnZtKhN

— BogartEstate (@HumphreyBogart) August 12, 2014
US media reports said Bacall had died after suffering a massive stroke at her home in New York on Tuesday morning.
Born Betty Joan Perske - "a nice Jewish girl from the Bronx," as she later put it - Bacall seared an indelible mark in the Hollywood fabric.
The smoky seductress landed on the American Film Institute (AFI) list of the top 25 actress legends and was named by People magazine as one of the 50 most beautiful people in the world.
Bacall spent much of the rest of her life coming to terms with her early superstardom, which grew into a seven-decade screen and stage career beginning in the Golden Age of Hollywood and spanning wartime dramas and Film-Noir with Bogart, action movies with John Wayne, a romance picture with Gregory Peck and comedy with Marilyn Monroe.
She cemented her sultry bombshell status in her 1944 major motion picture debut, To Have and Have Not, when she cooed to Harry 'Steve' Morgan, played by a smitten Bogart: "You know how to whistle, don't you Steve? You just put your lips together and blow."
The line gave her instant silver-screen immortality, and AFI pronounced it the 34th greatest movie quote of all time. When Bogart died, in 1957, Bacall placed a whistle in his coffin.
Her debut film also launched what became one of Hollywood's signature styles.
"I used to tremble from nerves so badly that the only way I could hold my head steady was to lower my chin practically to my chest and look up at Bogie," Bacall wrote. "That was the beginning of The Look."
Photos: Actress Lauren Bacall dies, age 89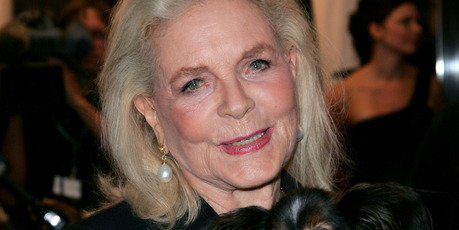 Only child
Born Betty Joan Perske in New York City on September 16, 1924, Bacall was the only child of a salesman and a secretary, Jewish immigrants from Poland and Romania who divorced when she was five.
Raised by her mother, she eventually took her mother's maiden name, Bacal, and modified it slightly when her acting career took off.
She initially dreamed of being a dancer, but it was her modeling career - through which she appeared on the cover of Harper's Bazaar magazine - that helped her blossom into a stage and screen legend.
Bacall landed her breakthrough role in To Have and Have Not at age 19, starring opposite Bogart and earning just $125 a week, after being spotted by director Howard Hawks's wife in the popular women's magazine.
Bacall married her dashing 45-year-old leading man a year later and one of Hollywood's greatest love stories began.
"She's a real Joe. You'll fall in love with her like everybody else," Bogart once said of his wife.
Bacall - still "Betty" to her friends and family - went on to feature with Bogart in The Big Sleep in 1946, Dark Passage in 1947 and Key Largo in 1948.
And she starred opposite Monroe and Betty Grable in 1953's How to Marry a Millionaire.
But the Bogart-Bacall fairytale had an abrupt ending, as Bogart died of throat cancer in January 1957.
After her next film flopped a year later, the young widow moved back to New York and tried her hand at Broadway, where she was hailed by critics.

App users: Watch an interview with Lauren Bacall here
'Special beauty'
She sizzled on the stage, winning two best actress Tony Awards for her roles in Applause in 1970 and Woman of the Year in 1981, and The New York Times wrote of Bacall: "Her elegance is no charade. Her class begins where real class must - in her spirit. She is a natural musical-comedy star."
Bacall embraced roles in some four dozen films, such as 1964's Sex and the Single Girl, Murder on the Orient Express in 1974, and 1990's Misery.
She acted well into the 21st century - including a startling 2006 cameo in the HBO series The Sopranos in which Bacall, playing herself, gets punched out and robbed.
Bacall, whose unflinching autobiography By Myself won the National Book Award in 1980, once said her "great luck in life was being surrounded by people who had goals".
But singer-actress Barbra Streisand - who directed Bacall in 1996's The Mirror Has Two Faces, for which the veteran actress received an Academy Award nomination - felt that Bacall had more of a hand in her own success than her modesty allowed her to show.
"Lauren's special beauty is the reflection of her elegance, her intelligence and her invigorating will," Streisand said.
Bacall never won a movie Oscar, but she was presented with an Academy Honorary Award in 2009.
A cousin of former Israeli president Shimon Peres, Bacall had three children - Leslie and Stephen, from her marriage to Bogart, and Sam from her eight-year marriage to late actor Jason Robards, whom she divorced in 1969.
Excerpts from her memoir, By Myself
On life lessons: "I have learned that I am a valuable person. I have made mistakes - so many mistakes. And will make more. Big ones. But I pay. They are my own. ... I remain as vulnerable, romantic and idealistic as I was at 15, sitting in a movie theatre, watching, being Bette Davis."
On Bette Davis: "(Bette Davis) was my 15-year-old idea of perfection - fine actress, dramatic bravery, doomed tragedy, sardonic wit - all an actress should be, and when I cut school I would sit all day in a movie house sobbing through Dark Victory or Jezebel or The Old Maid, smoking in the balcony (I paid for a whole package, so I had to finish it)."
On falling in love: "Each time I was in love - this was it. The hunger to belong. Imagination is the highest kite that can fly. When you have nothing but dreams, that's all you think about, all that matters, all that takes you away from humdrummery. ... Dreams were better - that was where my hope lay - I'd hang on to them, never let go. They were my own."
On Humphrey Bogart: "There was no way Bogie and I could be in the same room without reaching for one another, and it just wasn't physical. Physical was very strong, but it was everything - heads, hearts, bodies, everything going at the same time."
On Bogart's death: "I was breathing, but there was no life in me. I couldn't think of the future, I could only think of the man I had lost - the man who'd given me everything, taught me about people and living, with whom I had found my way of life."
Twitter tributes
Saddened about Lauren Bacall's passing - truly one of film noir's greats! Plus, she taught us all how to whistle. ;) http://t.co/JHUOWgR3sG

— Theodora (@TheodoraG13) August 13, 2014
I had the amazing opportunity to work with Lauren Bacall in the movie Diamonds. She was one of a kind. #legend #RIP pic.twitter.com/lfloF0WJn2

— Jenny McCarthy (@JennyMcCarthy) August 13, 2014
Sad to hear we've lost one of the last legends of the Golden Age of Hollywood. I met Lauren Bacall once... a serious "pinch me!" moment!

— Dita Von Teese (@DitaVonTeese) August 13, 2014
Lauren Bacall. The greats are leaving us. http://t.co/fWIF5Yna4A

— rose mcgowan (@rosemcgowan) August 13, 2014
"You know how to whistle don't you Steve? You just put your lips together and blow" https://t.co/wi0TOTAe1P RIP the legendary Lauren Bacall.

— edgarwright (@edgarwright) August 13, 2014
Five key Bacall films
1. To Have and Have Not (1944)
Aged just 19 at the time of filming, Bacall's first film was also the one that introduced her to her Humphrey Bogart, who she would go on to marry the following year. They remained married until his death in 1957.
2. Key Largo (1948)
The fourth and final film Bacall made alongside Bogart, Bacall was the only surviving cast member until her passing today.
3. The Big Sleep (1946)
A confusing murder plot meant The Big Sleep was held from release. It is now deemed so significant it was added to the National Film Registry in 1997.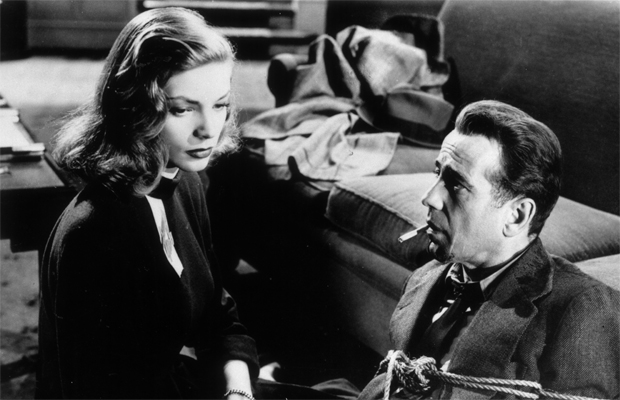 Lauren Bacall with Humphrey Bogart in 1939 film The Big Sleep. Photo / File
4. Murder on the Orient Express (1977)
Based on the Agatha Christie novel, the film suffered from a small budget but went on to receive rave reviews and made millions at the box office.
5. Dark Passage (1947)
Despite poor reviews at the time of its release, Dark Passage has been reassessed and currently holds a 91 per cent rating on film aggregate site Rotten Tomatoes.
- nzherald.co.nz, AAP, AFP