Hamilton rockers Devilskin are nearing the end of a nationwide jaunt that has resulted in sold-out shows and a No1 album. They talk to Chris Schulz as their tour bus aims for Auckland.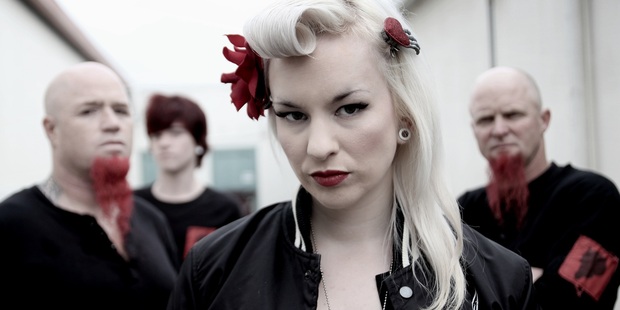 If you're waiting until the last minute to get your hands on Devilskin concert tickets, you're almost out of luck.
That's because the hard-rock Hamilton act have sold nearly every available ticket for their five-week nationwide tour. That includes more than 1000 people who will be seeing their sold-out Powerstation show in Auckland this weekend.
The band's success, which includes debut album We Rise spending three weeks at No1, is a source of amazement for singer Jennie Skulander.
"Everything's been a major surprise for us and a lot of stuff is still sinking in," she says on a rest day after performing in front of Devilskin's rowdy New Plymouth fans.
"We've been doing it for more than four years now and we've worked our butts off. Finally it's our time to shine, and it's all happening and it's awesome."
Their crowd-friendly mix of Guns N' Roses-style riffage, Skulander's powerhouse vocals and grunty singles such as Little Pill and Start a Revolution have seen 15 dates of their 19-date tour sell out.
Of the four remaining shows, the only one with available tickets is at Brewers Bar in Mt Maunganui.
Skulander, who learned her craft by singing along to her dad's Judas Priest and Iron Maiden records, says Devilskin's fanbase is growing at an alarming rate. Parents send them videos of their kids dancing to Devilskin songs, and at a recent show she spotted two retired people rocking out in the front rows.
And yes, some fans are even getting the ultimate accolade - a Devilskin tattoo.
"They get our album and EP artwork as tattoos," Skulander says. "We've signed arms and people have got them tattooed. I can't believe people do it, but it's cool."
Skulander, along with guitarist The Nail, bassist Paul Martin and young drummer Nic Martin, started the band four years ago. It's a family affair: Nic, 18, is Paul's son, and Skulander is dating "Paul's wife's brother".
She explains: "Paul's like my brother-in-law and Nic's like my nephew. It is like a family thing - we all get on really well, there haven't been any fights."
Paul and The Nail even have matching red beards and call themselves the Evil Twins - an image they play up to in their devilish, campy music videos.
Despite the family connections, Skulander admits they've been getting a little too close for comfort in the confines of the "kitted-out" tour bus that's been taking them around the country.
"The whole tour I've had my own room but this weekend I had to share a room with one of the guys and he was just farting the whole time. I was like, 'Oh yeah, that's right'.
"But I'm probably as feral as the boys are," she says.
That's not the only problem on the road in a band full of boys: Skulander won't name names but says one is notorious for going AWOL just when their bus is about to leave.
"There have been times where some members of the band and crew have been getting to bed at 7am, still pissed. One of our members I've started calling Tequila Superman. He drinks all the tequila in the bar then just lies down wherever he can when we're taking off somewhere. We're about to leave somewhere and he's just lying on the footpath."
Mostly, though, life on the road suits Skulander well - and she can't wait to perform in front of a Powerstation packed with Devilskin fans.
"I've played at the Powerstation twice before [in different bands] but this is exciting. I was like, 'I hope we get some people there' ... and it's sold out.
"I love being on tour with these guys, it's just amazing ... it's a blast."
Epic journeys
Three other Kiwi acts that have recently embarked on major nationwide tours:
Flight of the Conchords
One of New Zealand's highest-grossing tours of all time, Bret McKenzie and Jemaine Clement played 15 shows around the country in 2012 - including three dates at Auckland's Vector Arena. TimeOut reported at the time they had sold 65,000 tickets and raked in $2 million gross in ticket sales - among the biggest-ever local tours.
Sol3 Mio
The Samoan tenors embarked on 19 dates throughout March, including one Vector Arena show, forcing the trio to embark on a strict diet and exercise regime to keep up with the pace. They're still going, with extensive Australian and European jaunts over the coming months.
Tattletale Saints
The New Zealand born, Nashville-based folk-country duo embarked on a 22-date tour in January and February with the 10 String Symphony, playing small community theatres, cafes and bars in far flung places like Okarito and Whangateau. They added dates along the way too.
Who: Devilskin
Debut album: We Rise, out now
On tour: August 15, Altitude Bar, Hamilton; August 16, Powerstation, Auckland; August 17, Woolshed Tavern, Reporoa; August 23, Brewers Bar, Mt Maunganui
- TimeOut