Latest Nielsen figures show ZM is soaring online — and in the sky — in fierce competition with rival.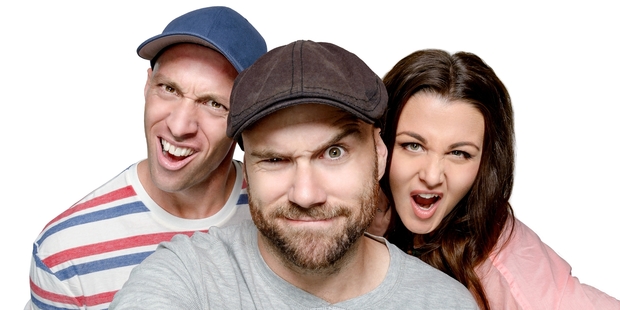 The battle for the hearts and minds of music radio listeners is moving well beyond the airwaves - into television, online, social media and even at 30,000ft.
And now The Radio Network's ZM is celebrating online figures, which shows it hitting more than 4.7 million website page impressions last month, compared with fierce rival The Edge's 2.1 million page impressions, according to Nielsen data.
The two stations are in a dogfight for audience, in which on-air talent plays such a critical role - and the poaching by ZM of Fletch, Vaughan and Megan from The Edge appears to be paying big dividends.
The trio took over ZM's breakfast show in April, after almost 10 years as The Edge's afternoon hosts. They now go head-to-head each morning with their former Edge colleagues Jay-Jay, Mike and Dom. But talent is only one part of the story.
"The Radio Network stations are so much more than FM and AM broadcasters now...
and that's because the audience demand high-quality content, when they want it, how they want it," say TRN chief content officer Gemma Fordham. "Therefore we have focused on distributing great content through multiple channels this year."
ZM and The Edge both have television shows - ZM features on Juice TV on Sky, while The Edge has Edge TV. ZM and fellow TRN station The Hits have also taken to the skies with new shows featuring on Air New Zealand inflight channels.
"Air NZ just got their figures back from the first month of content that the TRN channels existed in (ZM's Fletch, Vaughan and Megan and Polly and Grant; The Hits)," says Fordham.
"The FVM channel is the highest rating piece of content in the aircraft higher than everything else, which includes new release movies, TV shows, music channels etc.
"Given this content sits primarily on international routes, this is remarkable and demonstrates the demand for great local content."
Carl Fletcher, aka Fletch, says: "People know there are movies as well, right? Actually my Mum and Dad recently flew Air New Zealand to London return so that could explain it."
Fordham is also pleased with The Hits' growing online audience and with the engagement time overall.
In July, the average session time on ZM's website was 5 minutes, 38 seconds, compared with The Edge's 2 minutes, 27 seconds average session time, Nielsen figures show. The Hits' page impressions are also growing at a rapid pace, third behind the other two, with average session time at around three minutes.
"This is driven up by original and fun content, video, audio and photo galleries," says Fordham. "Our audience wants to be entertained... and we love to indulge them.
"Video is a key driver and the recent Amazing Race content with TVNZ is a great example. Giving consumers something that gives them a laugh or lightens up their day is something we strive to do every day and by partnering with like minded companies like TVNZ, we are taking that idea to a whole new level."
Meanwhile, the next latest on-air survey period started at the weekend - the first that will cover the range of big talent changes at TRN's music stations and runs until September 19. With Mike Hosking's NewstalkZB well out in front last time, there will be much interest in the performance of the next-placed stations' breakfast shows - The Edge, The Breeze, ZM and Mai FM, as well as the new-look Hits, with Polly Gillespie and Grant Kereama.
*TRN is owned by APN, owner of the NZ Herald.