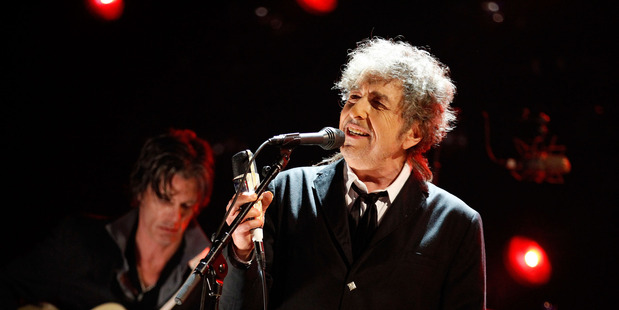 "I'm in the wrong town, I should be in Hollywood," growls Bob Dylan in Things Have Changed, the opening song of his two-hour show in Hamilton on Saturday night.
Indeed, the city's Claudelands Arena may seem an unusual choice for the only North Island concerts on the folk-rock legend's latest tour. But bringing the Don to the Tron turns out to be a winner for the fans who pack the 6000-seat venue.
Dylan and his crack five-piece band delve into his great songbook and the rich history of American music to deliver a focused and powerful set, which has a greater intimacy than his last visit to Auckland's larger Vector Arena in 2011.
Taking the stage, Dylan is suited and booted and wearing a wide-brimmed hat. He immediately sets the pace with the rollicking opener, before leading his charges through 19 songs - split into two sets - ranging from blues and folk to western swing, jazz and country.
Dylan has lately moved away from the lucky-dip set lists he is famous for, instead developing a selection of songs emphasing the latter parts of his career. The approach pays off - the songs are better suited to his current voice and each is imbued with greater drama and clarity.
Six are performed from his most-recent album Tempest. Pay in Blood gets a swaggering upgrade from the studio version, and has Dylan spitting venomous lines as the band finds a hard groove on the chorus.
Scarlet Town is swampy and mesmerising, the audience hanging on every turn of phrase. And Long and Wasted Years is fair belted out, its descending guitar line growing in power to match the triumphant vocal delivery.
Dylan, now 73, doesn't pick up a guitar himself during the show. He alternates between singing at the centre of the stage, throwing poses with harmonica in hand, and sitting at a grand piano, tinkling out angular melodies and chords.
Nuggets from the past are dusted off and reworked. Second song in, '60s classic She Belongs To Me is pared-back with a throbbing beat and sparse chords.
Tangled up in Blue - one of the bigger crowdpleasers - gets a retread with some new verses and a sensitive acoustic backing.
Despite the tighter set, the band - including guitar whiz Charlie Sexton and long-time bassist Tony Garnier - stretch out and show their chops on a banjo-driven High Water and a runaway Duquesne Whistle.
Dylan saves two of his best for the encore - All Along the Watchtower, which overcomes a dodgy start, and a feelgood Blowin' in the Wind.
At every Dylan show there is a portion of the crowd that just wants to hear him strum an acoustic guitar and sing the classics the way they were. But there would have been few gripes after this performance from an artist who seems, once more, on top of his game.
* What: Bob Dylan and his band
* Where: Claudelands Arena, Hamilton
* When: Saturday and tonight