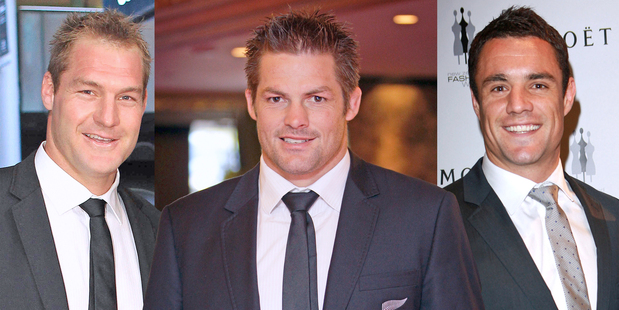 We thought Richie McCaw could do no wrong, but it turns out there's one thing he's not so hot at: Singing. The All Black Captain and team mates Dan Carter and Ali Williams released Song for Everyone this week as a fundraiser for their For Everyone charity. Spy took the opportunity to conduct a Q&A with the boys.

1. Tell us your thoughts about the exciting year For Everyone is having and the impact the charity is making?
Richie: It's a huge year for us at For Everyone Charitable Foundation: Song For Everyone, our first fundraising event, new ambassadors and a new team. I feel humbled and grateful to everyone for their generosity as it means more community grants across NZ. And that's what I love — seeing the smiles on the faces of our grant recipients and seeing the positive effect the grants have on Kiwi communities.
Westpac's support as our major grants partner is really helping us achieve more than we have in the past as well.
Dan: Coz I'm from a small town, I know first hand the positive difference that a helping hand can give to a community. We are proud of the fact that our grants can look after the little guys; the relatively small projects that are often hard to find funding for.
Ali: 2014 is massive for the Foundation. I was gutted not to be at our first fundraiser on Wednesday. My club Toulon had given me permission to fly back to NZ, but then there was a last-minute turnaround because of the small print in my contract. Gutted. But like I said in my recorded message to all our supporters, for me it's simple — I wanted to give a big thank you to everyone who has helped, not only on the fundraiser, but in the past as well. Kiwis helping Kiwis is what we are all about and that's what I love about For Everyone.


2. Tell us about the For Everyone soundtrack — will you be playing it at home and before games? Favourite singer on the track?

Richie: Definitely have to play it to the boys during warm up and tell them to download it to support the Foundation. I love the message of the song. It's on the For Everyone Charitable Foundation YouTube channel and it's just taken off. I'm very proud and grateful to everyone, especially Sony Music and NZOnAir. Stan Walker and Boh Runga sound awesome but so does everyone.
Dan: On Wednesday night, I was blown away. Song For Everyone got a standing ovation at the fundraiser and the applause went on and on. The project only became a reality because of the generosity of all involved. We find it inspiring. Vince Harder has done an amazing job as producer and co-writer. Everyone on the track is amazing especially Stan Walker. Richie said everyone in NZ has to download it and he's the captain — we have to do what he says, so that's the call to action NZ.
Ali: Not letting Richie sing on the track was the best call. It's guaranteed the song's success. So hit the download button on iTunes I say.

3. Tell us your thoughts on being re-united for the night?

Richie: Yeah well what can I say about Williams ... but to be fair I think the person who was the most disappointed about him not being with us in person — was Ali himself. It was Ali's passion about NZ and Kiwis helping each other that started the Foundation, so it was a real shame for him that he couldn't see first hand how far we have come.

Dan: I agree with Jackie Clarke. She reckoned Ali couldn't fly back from France coz he hadn't paid his parking fines. It was a real shame not to see the big guy though.

Ali: What can I say? The French took this one out of my hands. Awkward. I did all I could with radio interviews over the phone but it's not the same as standing next to my two mates that I started this Foundation with. At least I know we are backed by an awesome team so the night was always going to be great.

4. How can Kiwis get in and support For Everyone?
Richie: Definitely download Song For Everyone. Plus check out our website foreveryone.org.nz and find out how you can support us. Have a read through the list of grant recipients — we've given out more than 80 grants now.
Dan: Download Song For Everyone on iTunes or any online retailer. Plus there is a limited run of CDs at The Warehouse and JB Hi-Fi.
Ali: We've also got our Water For Everyone — it was our social enterprise model to give the Foundation some start-up funding and it still continues to help run the Foundation because every time you choose to purchase Water For Everyone, you're helping to give something back to NZ communities. Oh, and download the song. Richie said so.