Paula Yeoman meets a cross-dressing Hairspray star.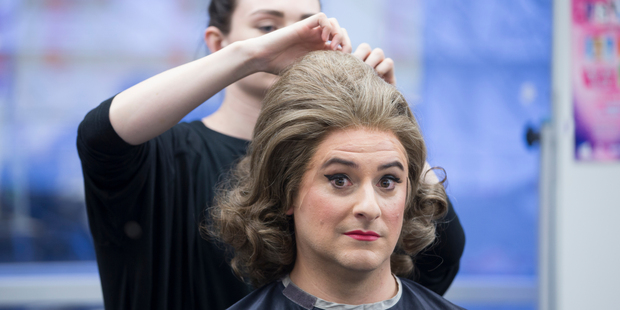 Many will remember Russell Dixon as TV3's affable, clean-cut weather presenter from the mid-2000s who dabbled in theatre. He has changed very little in the years since he left our screens to tread the boards of London's West End. Admittedly, he has piled on a few pounds.
It's not that he has overindulged in Kiwi tucker since returning home from the UK. It's more proof of just how seriously he's taking his latest role in North Shore Music Theatre's production of the award-winning Broadway musical Hairspray.
"Normally I'm at the gym and I'm keeping myself in good shape for the role that's coming along. But with this role, I've let myself go a bit."
It seems like a drastic sacrifice for a part in a local production. But Dixon's clearly not someone who does things by halves. He headed off to the UK eight years ago, "chasing his boyhood dream" to land a role in theatre.
What came his way far exceeded his expectations - roles in popular musicals
Blood Brothers, The Witches of Eastwick and then the lead role in the West End production of Top Hat. So why come home?
"My agent in the UK mooted the same point. 'You've just had your lead in a major West End musical, your star is rising.' But I really miss New Zealand. It's my home. I miss the sun, I miss the blue sky, I miss the sea I miss my family," he says.
It's a fair argument. But surely performing to comparably tiny crowds in Auckland's SkyCity Theatre for a few short weeks will be a let-down for someone who has realised his dream in London?
"The theatres are bigger and the audiences are bigger and more discerning ... it's a completely different animal," Dixon says of the UK industry. "But in terms of what you give as a performer, I'd like to think there's no difference at all. That's what being a professional is all about."
Plus, he quite likes the idea of knowing he's not locked into something for months on end.
"I would much prefer to do three or four different shows in a year than be doing the same show for two years, because it's hard to get the energy up every night. This is more of a challenge."
And for now, that challenge is Hairspray, the musical based on John Waters' cult 1988 film, set in 1960s Baltimore at the height of the civil rights movement. It centres on teenager Tracy Turnblad who fights to end racial segregation on the local TV dance show, which only allows African American contestants to compete once a month.
Dixon plays Tracy's obese mother Edna - a role brought to life in the Waters' movie by drag queen Divine and then again in the 2007 remake by John Travolta.
Dixon wears a fat suit, but says he added those extra eight kilos he spoke of earlier so he also has some weight on his face.
That's topped off with towering heels and a mountain of make-up, none of which appear to faze Dixon.
"Nothing would freak me out. I'm an actor. Give me something out of left field, make it difficult and I'm happy."
Hairspray runs at SkyCity Theatre in Auckland from August 16 to September 6.