It was supposed to be a comedy show, but things were far from funny when Jackass star Steve-O noticed a fan filming his Auckland gig. Rachel Bache was there.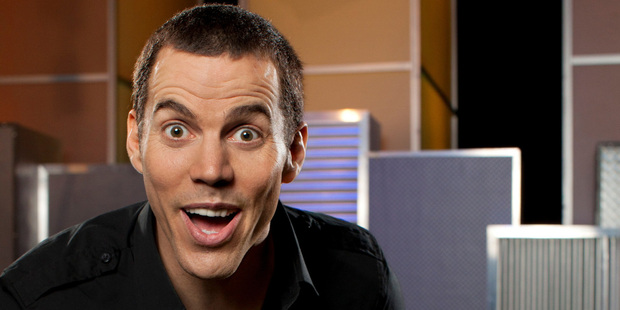 It was supposed to be a fun comedy show. Turn up, sit down and have a few laughs.
But at Steve-O's Bruce Mason Centre comedy set - it didn't take long for things to turn ugly.
Dancing his way on stage and showing off his infamous self-portrait back tattoo, Steve-O - real name Stephen Gilchrist Glover - was off to a strong start.
However, less than 10 minutes into the show, the tone quickly changed.
Mid-joke, Steve-O noticed a woman in the crowd recording the set on her phone and he was not happy.
Were you there? Do you have more information? Email us here.
Enraged, everything came to a screeching halt as Steve-O demanded the woman come down to the stage so he could delete the videos personally.
The room went silent, unsure at first if the performer was serious.
Eventually the woman sheepishly made her way down to the side of stage, while Steve-O compared the fan's actions to "walking into a museum and walking out with art".
After barking at the woman and demanding her to hand over the phone, she confessed to leaving it back at her seat. At this point Steve-O started swearing at her, even calling her a "dumb b****".
The crowd was starting to get restless too - most of the fans were on Steve-O's side. Chants of, "Throw the phone, throw the phone" began. Obeying the masses, the woman's phone was picked up by an audience member and hurdled down to the stage - or rather into the head of someone in the front row.
The next five minutes were tense and uncomfortable, as Steve-O took his time going through the phone's contents before eventually kicking the fan out of his show.
After this severely awkward event, Steve-O recovered, going back to his jokes and getting the room giggling again.
The usual antics seen on Jackass always made me cringe and squirm, rather than burst into fits of laughter. So I was a little unsure of what to expect from Steve-O, but I definitely had not expected that.
The rest of his set ranged from behind the scenes stories from his Jackass days, to crude fart jokes, to content that cannot be mentioned in this publication. There were hits and misses amongst them, but overall there was some funny material.
Although Steve-O's stand-up is not altogether bad, it felt undercooked. There were many parts that could have used tweaking and sections that dragged on, needing to be cut down.
Later in the night a few silly tricks were featured, which felt a little tacked-on for the fans who had attended specifically to see a few silly tricks (there were no staples involved). You still had to laugh, if not for just how ridiculous the stunts got.
Twenty minutes after the show felt like it should have finished, it was still going.
Steve-O invited those who were willing, up onto the stage to be kicked in the balls for his own Jackass style video clip - followed by selfies for everyone. And all the bogans rejoiced.
Who: Steve-O
Where: Bruce Mason Centre, North Shore
When: 6 August
- nzherald.co.nz